Debt Consolidation up to £5,000
Low-interest up to 59.9%
Repayment up to 36 months
In-page navigation
---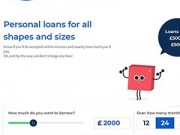 About Likely Loans
Transparent and fair loans with no surprises are the values of Likely Loans and have been since our establishment in 2014.
Owned by Oakbrook Finance, we are led by a team with a wealth of expert experience in lending, including debt consolidation loans. At the heart of everything we do, is providing access affordable loans to people despite their circumstances.
More about Likely Loans
We have been running for three years and we have 82 staff members based in Nottingham, UK. To date, we have helped more than 78 000 customers.
Apply for a debt consolidation loan
All you have to do is complete our online loan application and we will be able to give you an instant decision about your eligibility for a loan.
If possible, the funds could be in your account the very next day.
Likely Loans Services
Likely Loans provides unsecured personal loans.
It is designed for people who are looking for a debt consolidation option and/or may be experiencing difficulty in obtaining credit. Using our website to check if you are eligible for a loan will not be visible to other lenders or on your credit file but once you submit your application and we make a final decision, it will reflect on your credit file.
What is debt consolidation?
Debt consolidation enables you to compile all your existing debts repayments into one single loan, leaving you with one monthly repayment.
How much can I borrow?
Get a personal loan of between £500 and £5,000 with flexible repayment options. Loan repayment terms available include 12, 18, 24, 36, 48 or 60 months and is subject to the loan amount.
Likely Loans will consider your application if you have bad credit, provided that you have some UK credit history and have done been declared bankrupt in the last 12 months. We do not charge arrangement fees on our bad credit loans.
Likely Loans Product Details
Loan Type

Debt Consolidation

Interest Rate

59.9%

Loan Amount

up to £5,000

Repayment

12 months to 36 months
Benefits of Likely Loans
Debt consolidation loans to lower rates
Get

paid out

on the next day
One affordable payment
Likely Loans consolidate debt in the best possible way
Most customers receive an instant decision.
Before applying for a loan, you can check your eligibility and then apply for a debt consolidation loan online using our simple application form.
Required information and documentation
Most application simply requires you to fill in your personal details as indicated on the application form. At times, we may need you to provide supporting documentation, such as a copy of your driving licence but this will be requested if so. This is quick and simple and all you have to do is upload it online. Additional documents are required if we need to verify your identification and/or your current address.
Secure, trusted online lender
All the information you enter on the Likely Loans website is sent to us using secure encrypted methods. You can rest assured that by using the very latest in secure data handling practices, your details are safe at all times.
Personalised quote
You will receive a personal quotation, based on your personal situation and it is dependent on many factors including your credit history, credit rating and current financial status.
Receive your funds the next day
We will send you an email within 24 hours to confirm your loan application status. Loan applications are subject to an overnight check. However, we always strive to transfer your money within one working day of your loan application approval. Successful applicants will be emailed a loan agreement and information on your Direct Debit and repayment dates.
Repayments of your loan
Your debt consolidation loan repayments will be made in monthly repayments by Direct Debit from your nominated bank account. The Direct Debit will be set up automatically for you during the application process. You will receive full details in your welcome pack.
Customers are able to repay a loan in part or full at any time and we do not charge an early repayment fee.
Why consolidate your debts?
Consolidating your debt does not only give you a larger disposable income but can save you a lot of money as the interest charged on credit card debt or multiple outstanding loans are often higher. Why not consolidate debt into one affordable and hassle-free loan?
Advantages of a debt consolidation loan
Making only one monthly payment to keep track of, it makes debt management easier.
It could improve your credit rating as it could show lenders that you are managing your finances responsibly.
Customer Reviews & Testimonials
"
Likely Loans helped me with a 4k loan with a 48-month term at an affordable interest rate. Now its simple to manage my monthly loan payment instead of multiple debt repayments.
Peter E
— Glasgow —
Thanks to Likely Loans I now have more disposable income a month since my repayments are less than what my multiple debt repayments were, its a big help.
Nick H
— Dublin —
Likely Loans Contact Details
Contact Number
E-Mail
Website
Opening Hours
Monday

08:00 – 20:00

Tuesday

08:00 – 20:00

Wednesday

08:00 – 20:00

Thursday

08:00 – 20:00

Friday

08:00 – 20:00

Saturday

– Closed

Sunday

– Closed