Fast loans up to £2,500
Low-interest starting from 1281%
Repayment up to 14 months
In-page navigation
---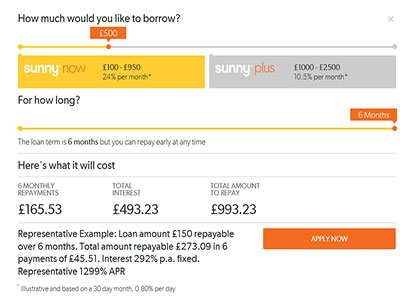 About Sunny Loans
If the sky is looking grey and the storm clouds are rolling in you could use a bit of sunshine. It is our speciality to help blow those financial blues away and help you to see the light behind the clouds.
At Sunny Loans, we make it our business to help our customers through the storm and to see the light of day. No matter what your financial flurry we are here to help you through it without the fuss and hassle with our personal and bad credit loans.
We are your sunshine, your only sunshine
Sunny Loans is a UK based fast loans lender. We specialise in providing fast, little loans to help you through those stormy seasons. When you find yourself having a bad month or if you are stuck with an unexpected bill to repay we can help you until your next payday. With the completion of a quick online application, we can help you to get you your much-needed cash before the sun sets. We are a responsible lender which means we operate with full transparency which is why our customers love us. Do finance the right way: apply for a Sunny Loans payday loan today.
Why you should choose us
If you are looking for a lender that you can trust with fast, little loans then look no further than Sunny Loans! With us, you can get the quick loan that you need within a few minutes. Our applications are specifically designed for fast assessment to allow for quick decision making. Once approved you can receive the money you need within fifteen minutes. What's better is that we never charge fees for our personal loans – this means you are void of application, admin and late payment fees. Save on interest with us since we allow for additional repayments and even have an interest cap. We pride ourselves on our loan flexibility which means you can arrange your loan to suit your budget and your income. Make the right decision for your financial future starting with a loan from Sunny loans.
Sunny Loans Services
Lending should not be a complicated and drawn-out process which is why we pride ourselves on our efficiency. The days of standing in long and tedious queues are a thing of the past – simple online applications are a revelation that we can get behind.
We specialise in little quick loans which means that you can get the finance that you need and repay it when you get your paycheck. Be as flexible as you need to be and finance the way that you like it.
Payday is coming early this month
Traditional payday loans allow you to borrow money and repay it by your next payday. Of course, this is also an option with us but we enjoy providing our customers with more flexibility which means that you can extend your loan term if it is better suited to your financial needs.
Our short term loans will allow you to borrow from £100 up to £2,500 repayable over as long as you need. We do not charge our customers to make lump-sum payments which mean that you can pay off your loan in one settlement or in multiple – the power lies in your hands.
Where do I sign up?
Our online loan application process is really convenient and easy. Simply complete the application on our website and you will receive an instant response with the outcome of your application. In order to apply, you will have to be over the age of eighteen and a UK citizen with a UK bank account.
You should be earning a net income of at least £500 per month and have a mobile phone for us to contact you on. Once your loan is approved one of our experts will get into contact with you and iron out all the minor details before the money is transferred into your account to be enjoyed.
Sunny Loans Product Details
Loan Type

Fast loans

Interest Rate

from 1281%

Loan Amount

up to £2,500

Repayment

30 days to 14 months
Benefits of Sunny Loans
PAYDAY Loans
QUICK Loans
PERSONAL Loans
It is your time to shine with Sunny Loans
When times are tough you need someone that you can rely on which is why Sunny Loans is here to lend you a helping hand.
Be financially prepared for both the good and the bad times in your life. Even if you have a less-than-perfect credit score, we are here to help you get the finance that you deserve.
Bad credit is a thing of the past
Many customers believe that they will be unable to obtain a quick loan with a poor credit history. Luckily for you, we do not discriminate against people based on their credit score. When we assess an application we determine whether the applicant will be able to afford the loan instead of relying on a credit score. The best part is that you will be able to improve your credit score if you have met all the repayments for your loan.
Is cash a bit tight this month?
Since we are in the finance business we understand better than anyone that some months can be tough. We understand the situation so if you are unable to meet repayments then contact our support team so we can make alternative arrangements. We do not charge any late fees and will do all that is in our power to help get you back on track.
Customer Reviews & Testimonials
"
Good terms, easy application but not the best interest rate.
Nathan C
— Glasgow —
They helped me out in a bind, but the rates weren't the best, although the terms were flexible.
Lena H
— Nottingham —
Sunny Loans Contact Details
Contact Number
E-Mail
Website