Payday loans up to £500
Repayment up to 6 months
In-page navigation
---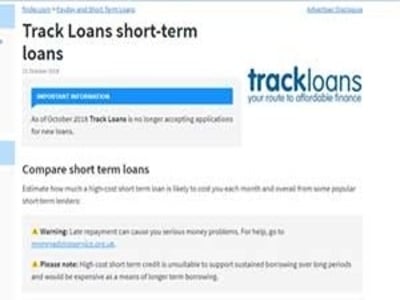 About Track Loans
As a trading name of Street UK (CIC) (Street UK), Track Loans have earned the name of a reputable payday loans provider in the UK.
We are an ethical and affordable loans company that provides an inexpensive alternative to traditional, high cost lenders. Street UK has long since proven to be a reputable lender and have been providing financing since 2001.
What is our mission?
Track Loans has one main mission and that is to offer an affordable online alternative to loan providers with high rates and fees. Our services are centred around our clients and we would not have it any other way.
How are we different?
We believe in the practices of an ethical lender that has a responsible lending code. And our financial products are designed around our customers to ensure we offer a competitive alternative. There is no reason for you not to enjoy loan approval without the stringent lending requirements of other traditional lenders and banks.
Transparent pricing
With transparent pricing and no hidden fees, we only cover the cost of the services we provide and nothing more. We do not aim to make a profit but rather to assist our customers reach financial wellbeing.
No fees!
You will be glad to learn that we do not charge any fees to process your online loan application, late payments fees or if your loan is approved. We only charge interest on the outstanding balance of your loan and the interest is charged on a monthly basis.
Track Loans Services
You can apply for any personal loan amount from £100 to £500, depending on your current financial circumstances. As a responsible lender, we will never offer you more than you have applied for.
What interest do you charge?
We charge 201% APR, which is less than half of the maximum interest rate, under FCA regulations.
The APR is worked out taking into account the following things:
the interest rate
other charges you have to pay
how long the agreement lasts
the amount and timing of the repayments
How do you compare to other lenders?
considerably cheaper than most online lenders
we provide you with access to affordable credit and excellent customer service
as a valued customer, you are our main focus
Will my application be approved?
The approval of each payday loan depends on your circumstances and all applications are assessed on its own merits.
Our loan approval process
The information you provide during the short-term loan application, the affordability of the repayments and your current level of debt including your previous credit repayment history will be used to assess your loan application. Furthermore, we will ask for your consent to commence searches with credit reference agencies to confirm the details you have provided.
Track Loans Product Details
Loan Type

Payday loans

Loan Amount

up to £500

Repayment

90 days to 6 months
Benefits of Track Loans
PAYDAY

Loans
PERSONAL

Loans
QUICK

Loans
If you need a loan today, Track Loans is the answer!
Getting a payday loan can cover unforeseen expenses.
In order to apply for one of our payday loans, we do have the following minimum requirements:
You must be over 18 years old,
UK resident
Have a UK bank account that accepts direct debits.
You will need to be working or have a minimum income of £1,000 per month.
How long is the process?
It only takes a few minutes to complete the online application form. We use the information to determine your current situation and it helps us to make the right decision. Additionally, we also provide our customers with some useful finance tips and budgeting advice to improve your financial wellbeing.
What information do you require?
Information about your personal circumstances
Your residential address
Your income and expenses
Has your loan be declined?
Should your loan be declined, we may need you to provide some additional information. We will contact you if this is the case with your loan application.
Same day loans
If you apply within general working hours, you could receive your fast loan funds on the same day. The loan transfer time is subject to terms and conditions.
Repayment terms
Your scheduled repayment amount will be collected via direct debit on an agreed date for the term of the loan. It gives your peace of mind and makes the repayment process as simple as it could possibly be.
Your repayments are scheduled to match your current income and you have the option of repayment made on a weekly, fort-nightly, four-weekly or monthly basis.
Early loan repayment option
There are no charges for early repayment and we will only charge you interest up until the day of settlement. Furthermore, you are able to increase your repayments by contacting us via email or calling our customer care team.
Save money on the interest
Increased repayments allow you to pay back less interest as the amount of interest being applied to the outstanding balance lowers the entire repayment amount you would have made back.
Customer Reviews & Testimonials
"
They are very transparent when it comes to costs, however, their rates are a bit high.
Rose-Marie N
— Glasgow —
Very good terms and level of service but the rates are very high.
Amara W
— Dublin —
Easy application process and good service.
Crimson K
— London —
Track Loans Contact Details
Contact Number
E-Mail
Website