Vehicle finance up to £50,000
Low-interest starting from 7.3%
Repayment up to 60 months
In-page navigation
---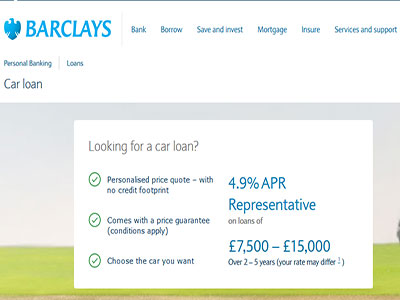 About Barclays
Over many years of excellent service and trusted advice, Barclays has become a trusted name in the UK. Our staff are highly trained to maximize the customer experience and ensure your financial success.
We don't offer short term loans or loans that are specifically designed as vehicle financing instead our online personal loans can be used in order to purchase a vehicle. Using a personal loan to purchase a car means that you won't be subjected to the restrictions that are normally associated with car loans. Apply for a personal loan of up to £50,000 that can be used to purchase a vehicle. The amount that your loan will be approved for will depend on your individual level of affordability.
Receive a personalised loan rate
When you apply for one of our quick loans your information will be verified and we will customise the loan to suit your budget. If you have an account with us you can provisionally apply to see if you qualify without the application having a negative effect on your credit score.
The APR % on loans between £7, 500 and £15,000 is only 5.5% and you have up to 5 years to repay your loan.
Benefits of our online car loans include:
Once approved the vehicle finance will be available straight away
Apply online any time of the day or night and get an outcome in an instant
Sign the agreement online if you would like to accept the quote
Benefit from fixed monthly payments
Barclays Services
To make sure that you can afford the loan you can design the loan terms to suit your budget and decide how long up will need to repay the loan over how many instalments and if you want to pay weekly or monthly.
If you need more money to consider our personal loan top-up option this allows you to have access to additional funding.
You can choose your repayment terms and set up a direct debit that is aligned with your pay date.
In order to apply for our online loans you will need to:
Have an active Barclays current account
Be a resident of the UK
You need to be at least 18 years old to apply
Before taking a test drive to discover your loan rate
We all want to purchase a dream car but purchasing a vehicle is a big commitment and shouldn't be taken lightly. You need to ensure that you are able to afford the car loan.
Apply for a loan online and we will let you know exactly how much you qualify to borrow for before you start your search. Check how much you qualify for without damaging your credit score.
Barclays Product Details
Loan Type

Vehicle finance

Interest Rate

from 7.3%

Loan Amount

up to £50,000

Repayment

24 months to 60 months
Benefits of Barclays
Loans are paid out quickly
Personalised

vehicle finance quotes
Apply for a loan in

10 minutes
With Barclays you can get a quick car loan from the comfort of your home
Our vehicle loans allow you to have the cash paid directly into your account so that you can have it on hand when you enter the car dealership.
Knowing exactly how much you have to spend will increase your bargaining power and find something in your price range. Our loans cover both new and used vehicles as well as private sellers.
Your budget will be the biggest deciding factor in how much money you borrow. The price you are willing to pay for the vehicle will determine the make and model as well as the fuel type. Research options on cars that are available to get a basic idea of their prices and special features.
Things to consider:
If you are buying a used car you should make sure that you inspect it for any damage and make sure that you aren't buying someone else's problems. Make sure that the car has never been in an accident and that all the vehicle part numbers match the DVLA's records.
Take the car for at least a 30-minute test drive to ensure that there are no problems and you can see the driving conditions.
Trade in or sell your current vehicle
Another way to get your hands on a new vehicle is to trade in your existing vehicle. Make sure that you get the most money possible for your vehicle by having it evaluated at different dealerships and researching the price online. Make sure you are getting a good deal then use the money you get for your current vehicle as a deposit on your new car.
If you prefer to sell your car directly we will be able to assist you with a fair deal. Upgrade your wheels the simple way by applying for one of our car loans today.
Vehicle financing options if you don't have cash
If you don't have the cash on hand to buy a new vehicle then you can apply for one of our other vehicle financing options.
Hire purchase
Leasing
PCP (personal contact payment)
Or a bank online loan
Our consultants are there to offer you expert financial advice and guidance so that you can drive away in your new car as quickly as possible.
Apply online to see if you qualify and you will receive an obligation free quote. This will allow you to shop around with confidence until you find exactly what you are looking for.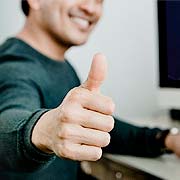 Barclays is a trusted & reliable provider of vehicle finance
In our review, Barclays adheres to the compliance criteria in accordance with the Financial Conduct Authority, where the granting the loan will not cause financial distress to the consumer.
Barclays is a registered credit provider in the UK; FCA number 759676
Customer Reviews & Testimonials
"
Barclays is my bank of choice when I wanted a car I approached them and they worked out a great loan for me.
William W
— Cork —
Fantastically low-interest rate combined with 5 years to pay off my loan, it was a match made in car heaven.
Henry W
— Nottingham —
Barclays always ensures to tailor a loan to whatever my needs are, in this case, a new car. They are the best!
Leo W
— Falkirk —
Barclays Contact Details
Contact Number
E-Mail
Website
Physical Address
86-88 Market St

Manchester

England

M1 1PD

United Kingdom
Opening Hours
Monday

09:30 – 17:30

Tuesday

09:30 – 17:30

Wednesday

10:00 – 16:30

Thursday

09:30 – 17:30

Friday

09:30 – 17:30

Saturday

09:30 – 15:30

Sunday

11:00 – 15:30