Loans Bad Credit up to £10,000
Repayment up to 60 months
In-page navigation
---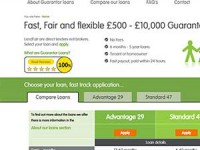 About LendFair
LendFair offers fast, fair and flexible £500 to £10,000 guarantor loans.
We are not brokers but are direct lenders. Thus, we are in a position to offer you the very best loan deals available.
Fixed term guarantor loans
We offer affordable, fixed term guarantor loans. The loan amount, term and rate vary depending on the loans you choose.
What is a fixed term loan?
A fixed-term loan repays the loan advance and interest added over the term of the loan. If you make your regular monthly repayments, you will repay the loan in full over the agreed term.
Our motto
Transparent, simple and fair financial services are our guarantees to our valued customers.
We want our customers to feel that they are in good hands. Should you need assistance with the loan application, or if you have any queries or questions, use our online chat service to speak to one of our consultants directly.
LendFair Services
Have your loan paid over in only 24 hours.
Guarantor loans are designed for individuals with bad credit who wish to apply for a loan. It allows you the opportunity to do so with the requirement of a co-signer, which is the guarantor. There are no fees applicable and we offer loan terms of six months to five years. We also promise fast payouts that are paid within 24 hours.
We have two loan options
Our two loan options, Advantage 29 and the Standard 47, are designed with our customers in mind. Here is an overview of the loan options on offer.
1. Advantage 29 loans
The Advantage 29 loans carry loan terms of 12 to 60 months with loan amounts available from £1 000 to £10 000.
2. Standard 47 loans
The Standard 47 loans offer loan amounts of between £500 and £5 000 with loan terms of six to 60 months.
What about charges and fees?
At LendFair there are no arrangement fees, settlement fees or hidden charges. The only charge you pay for is the agreed fixed interest rate added to the principle loan amount. We encourage you to repay your loan as soon as you are able to without any early repayment penalties.
LendFair Product Details
Loan Type

Loans Bad Credit

Loan Amount

up to £10,000

Repayment

6 months to 60 months
Benefits of LendFair
QUICK Loans
PERSONAL Loans
BAD Credit Loans
Even if you have bad credit, get a LendFair loan of up to £10 000
To apply for a guarantor loan is easy and straightforward as our friendly staff are there to help you every step of the way.
So how does it work?
You must:
Be 18 years or older
Be older than 20 for certain loans
Have a UK bank account
You need a guarantor

The guarantor needs to be a homeowner or tenant
Must be under the age of 75
How much can you borrow?
You are welcome to apply for as much as you are able to afford. We always recommend that you never apply for more than you need.
How do I make my monthly repayments?
The monthly repayments are made by direct debit, via a debit card linked to your UK personal bank account or by bank transfer. As we like to make things easier on our customers we will send you a reminder before payment is due.
Transparency
We are required by law under the Consumer Credit Act to provide you with certain information when you apply for a loan. We stick to this law and thus we offer fully transparent loan products that do not leave you in the dark in any way.
What next?
All you need to do is simply select the product that suits you and your proposed guarantor and apply online. The convenient application takes less than five minutes to complete. You could have your funds today!
How quickly will I get the loan?
The entire loan application process can take up to two days as there are certain documentary requirements. It also depends on how quickly you and your guarantor respond throughout the application process.
Once all has been approved, we transfer the funds immediately. The process could take as little as 24 hours or in some cases the same day.
Our aim is to transfer the loan amount within four hours of final approval.
Use your loan for any purpose
The funds are available for a purpose of your choice, whether you would like to consolidate debt, invest in your business or education bundled together with affordable, fixed, monthly repayments.
Customer Reviews & Testimonials
"
LendFair hold true to their name in that they offer fair loan options that are affordable and flexible.
Latasha H
— Essex —
Their fixed term loans are easily affordable and simple to budget.
Deidre K
— London —
The process is quick and easy and the money was paid over within a day. Good service!
Calvin H
— Leeds —
LendFair Contact Details
Contact Number
E-Mail
Website
Physical Address
Suite 1, Centurion House, Barrows Road, Harlow

Essex

England

CM19 5FN

United Kingdom
Opening Hours
Monday

09:00 – 18:00

Tuesday

09:00 – 18:00

Wednesday

09:00 – 18:00

Thursday

09:00 – 18:00

Friday

09:00 – 18:00

Saturday

– Closed

Sunday

– Closed