OnStride Financial
Updated
Loans Bad Credit up to £10,000
Repayment up to 24 months
In-page navigation
---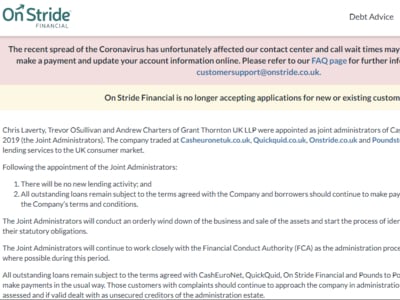 About OnStride Financial
At OnStride Financial, we consider more than just a credit score.
Our financial team has years of experience in the UK financial services industry.
Our mission
Straightforward and trustworthy credit is what we offer our clients, and nothing less. We aim to help hardworking people improve their lives and fulfil their financial responsibilities. You will only find professional, friendly services with a customer-centred approach.
Leader in credit services
We want to become the leading provider of credit to the residents across the greater UK area. Our financial services and products portray our level of commitment to our clients and their financial wellbeing.
Safe and secure
McAfee SECURE sites enable safety from identity theft, credit card fraud, viruses, spyware and online scams. It is another way we improve your experience when dealing with us.
We protect your sensitive details
Our Secure Socket Layer (SSL) encryption protects your sensitive data when you log in to your online On Stride Financial account, apply for a loan or use any of our other online services.
OnStride Financial Services
A direct lender that offers unsecured personal loans ranging from £1,000 to £10,000.
We offer rates as low as 29% to residents of the United Kingdom. Repayment terms range from one to five years.
Why choose us as a bad credit loan lender?
Customise your bad credit loan
As your convenience is our number one priority, you are able to customise your loan by choosing how much you want to borrow and how long you want to repay your loan over.
No late fees
At OnStride, we get that things happen and that is why we don't charge any late fees nor do we increase rates in case of a missed payment. We are truly here to help you.
Excellent customer service
Our customer service is not merely a department; we make it every employee's obligation to only offer the best customer available.
Bad credit loans
In order to apply for a bad credit loan at OnStride Financial loan, you must be at least 18 years old, have a valid UK bank account for us to deposit the loan into, a valid debit card for you to repay the loan. You also need to be employed and our loans are only available to UK residents.
OnStride Financial Product Details
Loan Type

Loans Bad Credit

Loan Amount

up to £10,000

Repayment

365 days to 24 months
Benefits of OnStride Financial
QUICK Loans
PERSONAL Loans
BAD Credit Loans
Even if you have a bad credit history, you can get a loan of up to £10,000–today!
When applying for one of our loans you can expect a straightforward process from beginning-to-end.
To apply for a loan simply follow our simple online guide
1. Complete the application form
Start your loan application by providing a few personal details about yourself. This should not take longer than a few minutes.
2. Do you qualify?
We will review an offer for you and let you know whether you qualify as well as your qualifying loan amount.
3. Customise your loan
Next, you will be required to select a loan amount and term, within what you qualify for. Our flexibility allows you to apply for a loan on terms that suit you best.
4. Submit your application
Once all of the above has been done, you will be required to review and electronically sign your contract. Additionally, you need to upload proof of income and then submit your application.
5. Verify your application
Upon submitting your application, loan processing agents will then review and verify your information. The entire process might take a couple of days.
6. Get finances
If approved, receive your money the same day as approval.
Who is eligible to apply for a loan?
Be at least 18 years old
Only available for UK residents
Be employed and receive a regular income
Have a valid UK bank account with an active debit card
What do I need to apply?
Bank account and debit card information
This is needed in order for us to deposit the loan amount into your bank account and to set up the agreed repayment structure.
Employment information
We will verify your employment information to ensure that you are able to afford the repayment instalments.
Residential information
In order to apply for a loan, we need information relating to your place of residence.
Proof of income
Your proof of income allows us to determine the loan amount you qualify for.
Should you have any queries, feel free to contact us and one of our friendly consultants will assist you in the shortest time possible.
Customer Reviews & Testimonials
"
I would recommend OSF to anyone who needs a bad credit loan that has no late fees and is affordable to everyone.
Chris P
— London —
Great staff that provides the best service and makes you feel like the most important person when you call.
Selena T
— Colchester —
Simple to get a nice size loan at decent rates and convenient terms.
Shantae W
— Whitby —
OnStride Financial Contact Details
Contact Number
E-Mail
Website
Physical Address
---
Postal Address
PO Box 74347, London, EC1P 1YZ, UK
Opening Hours
Monday

08:00 – 21:00

Tuesday

08:00 – 21:00

Wednesday

08:00 – 21:00

Thursday

08:00 – 21:00

Friday

08:00 – 21:00

Saturday

10:00 – 18:30

Sunday

10:00 – 18:30