Pounds to Pockets
Updated
Loans Bad Credit up to £2,000
Repayment up to 12 months
In-page navigation
---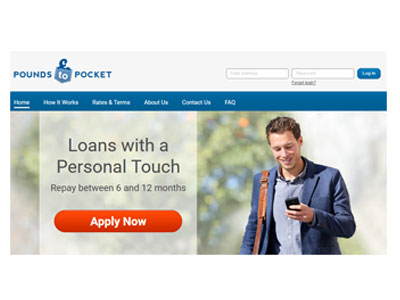 About Pounds to Pockets
At Pounds to Pocket, you will find lending services that are straightforward, professional and designed especially for our customers.
Our flexibility allows us to build a personal loan you need with repayment terms of between six and 12 months.
Alternative Lender of the Year finalist
A two-time Credit Today Finalist for Alternative Lender of the Year in 2012 and 2013, Pounds to Pocket was launched in 2010 and is a finance provider that cares. Customer experience is important to us. Therefore, we always strive to optimise your customer experience as much as possible.
We have a number of unique innovation to ensure we are always ahead in the game and that we keep our customer satisfaction high. Here is a list of unique features currently offered by us:
Pound Place, The Scoop on How to Save
A convenient mobile website
Lending Code
Thousands of satisfied customers
Nine out of 10 customers would recommend us to friends, relatives and colleagues and 93% of customers are satisfied with the service they receive.
Reputable UK lender
Pounds to Pocket is authorised and regulated by the Financial Conduct Authority and forms part of Enova International.
Pounds to Pockets Services
Applying for a loan at a traditional lender if you have bad credit can be quite difficult.
However, we have the perfect financial solution for you if you need finance but have bad credit.
Bad credit loans
Apply for a bad credit loan at Pounds to Pocket and you could have an answer in as little as 30 minutes.
Not to mention, the loan amount within another 10 minutes. We are all about speedy, reliable and professional financial lending services and we are ready to assist you with a loan regardless of your bad credit.
How much will a bad debt loan cost?
You will be liable for the interest accrued on your unpaid loan amount. The interest rate of your loan is determined by the loan amount and the term of your loan.
Early repayment
Yes. In fact, we encourage you to do so. Why? Because we do not charge a fee for repaying your loan early and you could save on the total amount of interest paid over the term of your loan.
Making additional payments or an increased repayment amount also allows you save on interest incurred on your loan.
Pounds to Pockets Product Details
Loan Type

Loans Bad Credit

Loan Amount

up to £2,000

Repayment

6 months to 12 months
Benefits of Pounds to Pockets
Applying for a loan with Pounds to Pockets is straightforward & convenient
Use your computer or mobile to apply online for a loan up to £2,000. It is as simple as that. The process should take no longer than only a few minutes.
Instant Decision
After you have completed the online loan application form and submitted the form, your application will be reviewed to determine the loan decision.
Receive your Funds
You could receive the funds within 10 minutes upon loan approval. We do not like to keep our customers waiting on funds that they need.
Repayment
The repayment terms range between six and 12 months.
Loan requirements
Before applying for a loan, ensure that you meet the following loan requirements:
You must have a valid bank account
You are required to receive an income through either employment or self-employment
You must be a resident of the UK
Be at least 18 years old.
Repayment options
The Pounds to Pocket LoanBuilder allow you to choose to repay your personal loan between six and 12 months via debit card or direct debit authorisation.
By direct debit it would be regularly scheduled payments will be automatically withdrawn from your debit card on the date that your repayment is due.
If you prefer, your regular scheduled payments to be will automatically withdrawn from your bank account, you have the option of direct debit authorisation.
How long will it take to receive the loan amount?
Usually applications are processed within 30 minutes from the time it has been received. Should your loan be approved, it will only take another further 10 minutes for the loan amount to be paid over. However, this is often dependent on your bank supporting faster payments.
What are the fees involved?
We do not charge you any fees to apply for a personal loan. That means no application fee, no origination fee and no closing costs.
Will a credit check apply during the loan approval process?
Yes. It allows us to verify your application information and to help determine whether your application will be approved or denied. Additionally it helps us determine the amount of your loan, if approved.
Customer Reviews & Testimonials
"
An affordable lender that makes it easy to get access to a loan when you have bad credit.
Jason K
— Sheffield —
They really helped me turn my bad credit around by giving me an affordable loan to pay off debts and get control of my finances.
Landon Q
— Leeds —
Pounds to Pockets Contact Details
Contact Number
E-Mail
Website
Physical Address
---
Postal Address
PO Box 74347, London, EC1P 1YZ, UK
Opening Hours
Monday

08:00 – 21:00

Tuesday

08:00 – 21:00

Wednesday

08:00 – 21:00

Thursday

08:00 – 21:00

Friday

08:00 – 21:00

Saturday

10:00 – 18:30

Sunday

10:00 – 18:30