Business Loans up to £25,000
Low-interest starting from 6%
Repayment up to 5 years
In-page navigation
---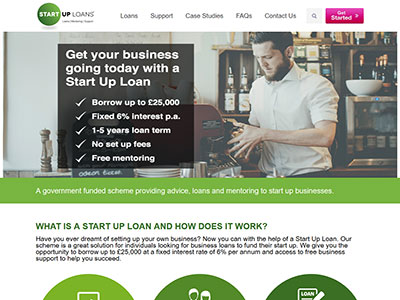 About Start Up Loans
Lord Young established Start Up Loans in 2012, the primary aim was to boost the level of entrepreneurial spirit within the UK whilst stimulating the growth of the local and national economies.
About four years thereafter, there had been over 45,000 Start Up Loans distributed to UK businesses.
Our success
The success of Start Up Loans is based on our approach to early stage businesses, providing financing to start and grow, but also support all types of businesses.
Start Up Loans programme
As a subsidiary of the British Business Bank, we deliver the Government's Start Up Loans programme. The programme is designed to provide finance and support for businesses who struggle to access other forms of business finance.
National network of partners
Our national network of Delivery Partners assess final applications and provide ongoing mentoring support to successful applicants.
Impact and achievements
We believe we have positively contributed to the lives of thousands of individuals. And not only our local communities but the nation as a whole.
46,508 Start Up Loans businesses backed so far
£303,363,687 Start Up Loans money lent so far
£6,480 Start Up Loans average loan size
28 Start Up Loans businesses backed per day
Start Up Loans Services
We offer a fixed interest rate of just 6% per annum with loan amounts between £500 and £25,000.
Personal loan for business purposes
A Start Up Loan is a government-backed personal loan, which is available to individuals who require finance to start or expand a business in the UK. What's more is that successful applicants receive 12-months of free mentoring and exclusive business offers to help them on their road to success.
Unsecured loans
With our unsecured loan option you are not required to put forward any assets or guarantors to support an application.
How does it work?
Each owner and/or business partner of the business can independently apply for up to £25,000, with a maximum loan amount of £100,000 available per business.
Quick facts
Borrow £500 – £25,000
Fixed interest rate of 6% per annum
One to five year loan repayment term
Free online loan application support
Free post-loan support and mentoring
Free templates and guides
No application or set-up fees
Mentor pairing
Upon loan approval, you will be paired with a mentor for 12-months of free mentoring support to help your business grow optimally and succeed.
Start Up Loans Product Details
Loan Type

Business Loans

Interest Rate

from 6%

Loan Amount

up to £25,000

Repayment

1 year to 5 years
Benefits of Start Up Loans
A fixed

interest rate at 6%
Flexible

repayment terms
Get a business loan up to £25,000
Up to 12 months of free mentoring
Start Up Loans specialise in finance for new and early stage business to make the business goals a reality
To apply for one of our expert business loan could not be easier.
Simply follow the following steps involved in applying for a Start Up Loan
STEP 1 - Register your details
You will be required to fill in our registration form and choose a Delivery Partner. Alternatively, you can let us match you with one that offers the best support with your application. Once the first step has been completed, your Delivery Partner will contact you, who is able to provide support with writing your business plan, creating a cash flow forecast and deciding your loan amount.
STEP 2 - Complete an application form
Next you will be required to provide information about your business. This step is important to help us understand your personal situation, the purpose of the long or short term loan and the nature of your business. Credit checks are done to assess if you are eligible and to determine whether you are able to afford the loan repayments.
STEP 3 - Finalise your business documents
You are now requested to finalise your business documents. We need your business plan, cash flow forecast and personal budget. These can be submitted straight away during your application. If you have not yet prepared the required documents, you Business Advisor will support you in creating them.
Final stages of loan application
Once your business loan application has been submitted in full, a loan assessment will be done to determine if you have a strong and viable business plan. Other factors that we consider include whether you can afford the loan and associated repayments.
Final step - Once your application is complete and you have signed your loan agreement, the funds are available to you and access 12 months of free one-to-one mentoring right away.
Businesses eligible for a Start Up Loan
Our loans are specifically designed to be used to start a new business or expand an existing business. The businesses that we finance are required to be trading for less than 24 months. We aim to support as many types of businesses as possible but we are not able to offer financial support to all types of businesses.
Other requirements
18 years of age or older
Businesses that are or will be based in the UK
UK resident
Right to work in the UK
New business ventures or businesses that have been trading for up to 24 months
Credit checks and demonstrate that you can afford to repay the loan
Accepted business type and loan purpose that is eligible under the terms of the scheme
Franchise businesses can be supported
Business partners can each apply
Customer Reviews & Testimonials
"
By far the most affordable unsecured business loan option I have found. I can highly recommend them!
Sidney S
— London —
Easy application process with fast approval - payout can come in a bit sooner, but worth the money.
Maddie W
— Bristol —
The approval took a bit longer than I would have liked, but once it came through the money was in my business account within a day.
Erick H
— Ipswich —
Start Up Loans Contact Details
Contact Number
E-Mail
Website
Physical Address
71-75 Shelton St

London

England

WC2H 9JQ

United Kingdom