Easy Loans Company
Updated
Debt Consolidation up to £25,000
In-page navigation
---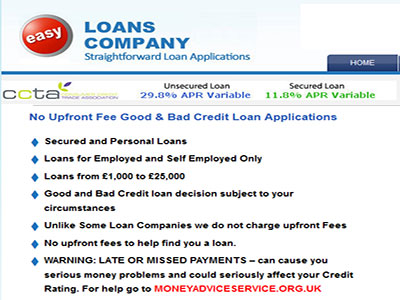 About Easy Loans Company
Do you find yourself having some financial difficulty? Are multiple debts piling up and giving you a financial headache? Finance can be a messy business but we are here to inform you that it can be simpler than it appears.
At the Easy Loans Company, we aim to make finance a convenient, hassle-free and satisfying experience. For fast financial relief and assistance with financial management contact the Easy Loans Company.
The game is in the name
Being upfront and transparent is the way that we operate which is why we are open about our beliefs. We believe in easy lending – no need for mounds of paperwork, drawn-out meetings, and boring financial jargon when applying for one of our debt consolidation loans. No matter what your financial position is we will assess your situation the same regardless.
Simply complete the online loan application and within a few minutes, you will hear the outcome of your application. Our professional and expert team will determine which one of our trusted lenders is best-suited for your financial situation saving you both time and money.
Easy Loans Company Services
Debt can be a messy situation if it is left unchecked. As soon as you find yourself struggling with debt it is important to find a way to get the matter under control.
One of the best ways to deal with debt is by consolidating it. Debt consolidation is a great way to regain control of your financial situation and to improve your money management.
Do not hesitate to consolidate
Keeping your finances organised can be tough especially if you have multiple credit cards and other types of debts that need to be repaid at different times of the month. Multiple repayment dates can be difficult to keep track of which often results in a missed repayment. The time for better-organised finance is today!
From amounts as low as £1,500 up to £25,000 you can repay your current debts and pay the amount over a period of one to ten years. You can choose between both secured and unsecured options each with their own rate. Not only will you reduce all your debts to a single personal loan repayment but you will also save money on interest and fees. Sounds like a done deal!
Easy Loans Company Product Details
Loan Type

Debt Consolidation

Loan Amount

up to £25,000
Benefits of Easy Loans Company
DEBT

Consolidation Loans
PERSONAL

Loans
Get control of your debt with the help of the experts
Not every debt situation requires a large loan. Sometimes unexpected problems find their way to our doorstep and require small amounts of money to overcome.
This is where smaller loans such as short-term loans can be the answer. A short-term loan does not require collateral and is perfect for small loan amounts.
Short-term lending for smaller debts
Whether you find yourself short of cash in the middle of the month due to an unexpected medical bill or urgent vehicle repair you could benefit from a short-term loan option. Typically short-term loans are repaid by the borrower's next payday but they can extend to periods up to a year. This is an ideal solution for smaller financial problems, particularly the unforeseen kind. If you find yourself in a bit of a pinch complete the application and pave your way toward a short-term or payday loan.
Applying is easier than pie!
Since we are all about making lending easy, our application should be no exception! Use your Smartphone, laptop or Tablet and complete the short application form online. Within a few minutes, you will be informed of the outcome and can receive the money in your bank account within the hour. As long as you are a UK citizen over the age of eighteen with a regular income and an active bank account you should experience no problems!
Why you should let us make a decision
Easy lending is not a myth – we make it possible right here. While we may not be a lender ourselves, our team of professional employees is well-trained in a variety of loan options. We provide access to a variety of financial products ranging from short-term to long-term loans with both secured and unsecured lending options. Bad credit is not a stumbling block for us; among our panel of trusted lenders are bad credit lenders who specialise in offering bad credit loans to those with less-than-perfect credit scores. With a simple, fast application process that can be completed from the comforts of your own home, what more could you ask for?
Secured loans versus unsecured loans – what's the difference?
When exploring loan options you will come across the terms "secured" and "unsecured" frequently. In order to obtain a secured loan, the borrower will have to provide a form of collateral or security such as their property or vehicle. Because the lender has collateral offered against the debt consolidation loan, the borrower is able to obtain higher loan amounts at a reduced interest rate due to the reduced risk of borrowing to them. However, an unsecured loan does not require any form of collateral but the borrower can only access lower borrowing amounts at higher rates due to the increased risk of borrowing to them. In most cases, a secured loan is a better option due to the lower rates. However, if you are uncertain that you will be able to make the repayments then an unsecured option would be safer.
Customer Reviews & Testimonials
"
ELC was a great help in providing me with an affordable, easy to repay loan to help me manage my debts that were piling up.
Sebastian C
— Manchester —
Hardworking and friendly staff on call that helped me with many questions and assisted in the application process.
Connor B
— Brighton —
Simple and affordable loan option. I highly recommend!
Patrick R
— Canterbury —
Easy Loans Company Contact Details
Contact Number
E-Mail
Website
Physical Address
Bridgewater House, 58-60 Whitworth St

Manchester

England

M1 6LT

United Kingdom
Opening Hours
Monday

09:00 – 20:00

Tuesday

09:00 – 20:00

Wednesday

09:00 – 20:00

Thursday

09:00 – 20:00

Friday

09:00 – 14:00

Saturday

10:00 – 14:00

Sunday

– Closed