Fast loans up to £750
Repayment up to 30 days
In-page navigation
---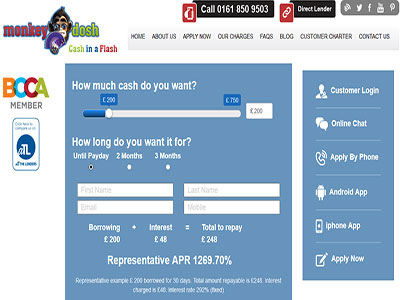 About Monkeydosh
Monkeydosh, an internet based fast finance service provider, offers small flexible fast loans.
If you are in an urgent cash-flow situation, we are able to offer you a fast, immediate cash solution to ensure you are back on your feet in no time.
Responsible, online lender
As a responsible lender, we assess each online loan application in terms of affordability on behalf of the consumer and our customers can thus rest assured that we always follow responsible lending guidelines.
This requires us to perform electronic identification checks and request your latest bank statements showing your salary going into your account. Why do we need this information? In order for us to make informed decisions when it comes to approving personal loans, we require the above information.
Easy, fast loan application
Our online system allows us to offer a quick loan application procedure to ensure you receive the funds you require in the shortest time possible. You could have the funds you require within a few minutes. Applying for a fast loan with us offers you convenience, speedy service and a solution to an unexpected emergency.
Monkeydosh Services
Monkey Dosh offers loans from £100 to £750.
To apply for a quick loan, use our online calculator to view the loans amounts, timescales and total cost payable and you are one step closer to getting the funds you require.
Fast cash loan
Simply apply today to get your fast cash loan and you could be approved within a matter of minutes. We do require that you have a regular salary or wage income, which is to be paid directly into your own bank account. Repaying your Monkey Dash fast loan is easy. Simply ensure that the funds are available in your bank account on the date agreed upon in your loan agreement.
Do you have a cash flow problem?
The main aim of our business is to provide our customers small, flexible fast loans to assist them with immediate cash flow problems. All you have to do is complete an online application form and the funds can be transferred within hours.
Transparency
Once you have used the online calculator to determine the terms of your payday loan, you will immediately be informed as to the entire loan amount that is to be repaid. We want you to make informed decisions, thus we always operate on the basis of transparency.
Monkeydosh Product Details
Loan Type

Fast loans

Loan Amount

up to £750

Repayment

30 days
Easy loan application for your convenience is our business
To apply for a fast loan today and get funds fast, our online application form will only take a few minutes to complete.
After submitting your application, within seconds, you will be notified whether we are able to assist you with a quick loan. We aim to have the money in your account the same working day as loan approval.
Loan requirements
The minimum requirements that our customers are required to meet are,
You will need to be over 18,
be a UK resident,
have a UK bank account with an active debit card,
your own email address and a mobile phone.
We perform a credit check
As part of our responsible lending practices, we do carry out a credit check. It forms part of our decision making process and we use a number of agencies to verify the information you have provided. However, you credit report is not the only criteria we look at. We look at your current ability to repay the loan. So, if you have a less than perfect credit score and need a bad credit loan, we might still be able to help you.
Loan costs
Our APR is 1269.7% as our loans are usually repaid within 30 days.
Early repayment
Some lenders charge fees for early repayment but with Monkeydosh you can rest assured that we encourage and rewards customers to repay their loans earlier. It is also a great way to save money on your loan repayment.
Quick loans
The transfer of your approved loan amount will depend on you circumstances and your banking facilities. Usually our fast loan transfer can take from 30 minutes up to three days.
Customer Reviews & Testimonials
"
Very cool online loan calculator that let me see just how much the loan will cost in total so I knew which term to pick.
Carrol D
— Chester —
The application was approved very quickly, and the funds paid to my account fast, but the rates are a bit steep.
Gary N
— Ipswich —
I didn't need a large loan so a long repayment term wasn't needed, which is why I like Monkey Dosh, I could pay off my loan after the weekend.
Gerrick N
— Newcastle —
Monkeydosh Contact Details
Contact Number
E-Mail
Website
Physical Address
Sentinel House, 10, Peel St, Eccles

Manchester

England

M30 0NJ

United Kingdom
Opening Hours
Monday

09:00 – 17:00

Tuesday

09:00 – 17:00

Wednesday

09:00 – 17:00

Thursday

09:00 – 17:00

Friday

09:00 – 17:00

Saturday

– Closed

Sunday

– Closed