On Stride Financial
Updated
Fast loans up to £5,000
Low-interest starting from 315.4%
Repayment up to 3 years
In-page navigation
---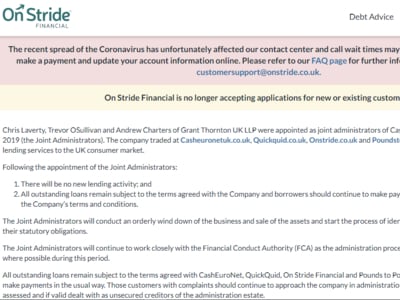 About On Stride Financial
When the need for money suddenly arises and you find yourself a few bucks short you might get knocked out of stride.
Sometimes times like these only require a little bit of additional finance to get you through the month. On Stride specialises in fast loans to help get you back on track. So when the going gets tough, think of us and we will find your stride.
Better loans and smarter lending for you
On Stride is an amalgamated lender of both On Stride Financial and Pounds to Pocket. Originally Pounds to Pocket was formed in 2010 as an online lender and a provider of short-term loans for financial emergencies while On Stride Financial offered customisable personal loans. In 2014 we amalgamated and now offer improved financial products and services for our customers. We take pride in being able to help UK citizens to reach their financial goals and get back in pace. With a simple online application, we can promise fast funding that you need. Get the money you need within 10 minutes and use it to get back on track.
How does applying for your loans work?
Applying for a loan has never been easier and faster than with On Stride Financial. Simply complete our application form online and choose the amount that you would like to borrow and the repayment terms that you would prefer. What is great about lending from us is the flexibility that we have when it comes to lending – you can be as flexible as you want to be when it comes to your finance. Our team will then process your application as soon as possible and we will make an instant decision. Within ten minutes your application can be approved and the money can be paid into your account – it is that fast and easy!
On Stride Financial Services
Unexpected circumstances are not as uncommon as what we wish they would be.
Whether it is a doctor's bill that has set you a bit back or your car has bummed out on you, we can help you until your next payday. We offer an array of bad credit loans as well as personal loan options so, depending on how much money you need, we can help to set you up.
The loan you need packaged the way that you like it
The best part about lending from us is that you are able to package your loan exactly as you would like it - this means that you can be as flexible as you want to be. We strive to make our loans as near to your preference as possible.
Keeping this in mind we offer fast loans from £150 to £5,000 repayable over a period of a minimum period of six months and a maximum of three years. The rate that you are charged will greatly depend on your circumstances, the amount borrowed and duration of the loan. What are you waiting for? Apply for your fast loan today!
What are the requirements that need to be met for your loans?
In order to apply for a personal loan from On Stride, you will need to be from the UK and at least eighteen years of age. You also need to have a regular and stable income in order to prove that you are able to afford the loan that you are applying for.
The loan can also make your monthly repayments via debit card or direct debit order. You can be as flexible as you need to be with your loan.
On Stride Financial Product Details
Loan Type

Fast loans

Interest Rate

from 315.4%

Loan Amount

up to £5,000

Repayment

6 months to 3 years
Benefits of On Stride Financial
QUICK

Loans
SHORT-TERM

Loans
PERSONAL

Loans
Loans for every walk that will put a skip in your stride
When it comes to lending it is sometimes difficult to determine which option is the most suited for your circumstances and your affordability.
This is why we ensure that our customers fully understand the implications of their loan and that they are able to afford the option that they decide.
How do I choose the best repayment strategy?
When you are applying for a loan it is important to be certain of your past, current, and future economic circumstances. The reason for this is because your circumstances will greatly impact the amount and term over which you are able to borrow. When borrowing it is better to ensure that you are able to repay the payday loan as fast as possible. The faster that a loan is repaid, the less interest is accumulated on the loan in total. That being said, it is important to take the largest repayment possible to pay the loan off as fast as you are able.
Secured, unsecured – what does this all mean?
When applying for quick loans you will come across the terms 'secured' and 'unsecured' quite frequently. A secured loan implies that a type of security must be given when borrowing such as your home or vehicle. While an unsecured loan does not require any form of security. Secured loans allow for higher borrowing amounts at lower rates while unsecured loans have lower borrowing amounts at higher rates. That being said, it is best to make use of a secured loan if you are sure that you will be able to meet the monthly repayments without a problem.
Customer Reviews & Testimonials
"
Convenient online loan calculator helped me see just how much I can afford over what term.
Kai M
— St Andrews —
Simple online application took only a few minutes to complete and the payout came through on the same day.
Albie O
— Drogheda —
On Stride Financial Contact Details
Contact Number
E-Mail
Website
Physical Address
483 Green Lanes

London

N13 4SP

United Kingdom
Opening Hours
Monday

08:00 – 21:00

Tuesday

08:00 – 21:00

Wednesday

08:00 – 21:00

Thursday

08:00 – 21:00

Friday

08:00 – 21:00

Saturday

– Closed

Sunday

– Closed