Fast loans up to £750
Low-interest up to 24%
Repayment up to 31 days
In-page navigation
---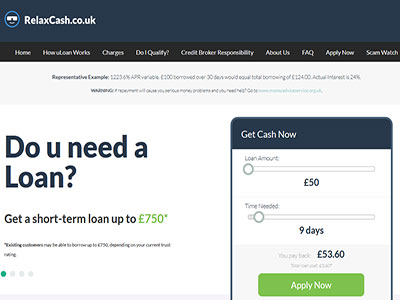 About Relax Cash
Financial problems can leave us feeling drained, anxious and generally unhappy.
Depending on your circumstances there are a variety of loans that can influence how best to deal with the situation. Here at Relax Cash, we take all the financial problems into our own hands to give you some room to breathe in. We are experts and can help to make the problems disappear for good! Sit back with a cup of coffee and relax while we do the work.
Brokering done right at Relax Cash
Relax Cash is not a direct lender but rather a broker. This means that we do not lend to our clients, instead, we assist our clients to find the perfect lender for their circumstances. We specialize in helping our customers to find the perfect short-term loan for emergency lending. Our panel of lenders has gone through a selection process ensuring that they are the best and most trusted in the UK.
How does the lending process work?
Convenience and simplicity are what we strive for which is why we do all that we can to ensure that our application process is fast and easy to use. Complete the online loan application at your earliest convenience with leisure. Just tell us which short-term loan option you would prefer, the loan amount you need and the term over which you would prefer to repay the loan. Our team of specialists will then examine your application and direct you to the perfect lender who will finalise your loan. Once your quick loan is approved the money can be paid into your account within the same day – fast service just how you like it.
Relax Cash Services
Fast loans are amazing for emergency situations.
Unexpected situations have a habit of rolling onto our doorstep when we least expect them. That being said, you can sometimes require some assistance. Relax Cash is here to provide you with that assistance – choose from a variety of short-loan options and we can arrange it to be as flexible as you need it to be. The time for action is now.
Short-term loans with long-term solutions
When you find yourself in a bit of a financial pickle you need someone to help pull you out. There is no shame in experiencing a few financial setbacks, in fact, it is natural. So relax and borrow from as little as £50 up to £750 repayable over a minimum of one week up to a maximum of one month. These short-term loans are traditional payday loans implying that the loan amount needs to be repaid by the borrower's next payday. Get yourself a payday loan today to tide you over until your next paycheque.
Do I qualify for one of your short-term loans?
Because of our fast brokering services, you are potentially minutes away from your much-needed financial solution. You are able to apply as long as you are a permanent resident within the UK and over the age of eighteen earning at least £500 per month. You are also required to have a valid UK bank account with a valid email address and a mobile phone. This is so that the chosen lender can deposit the money into your account and contact you in order to discuss the details of the bad credit loan. What are you waiting for? Apply today!
Relax Cash Product Details
Loan Type

Fast loans

Interest Rate

24%

Loan Amount

up to £750

Repayment

7 days to 31 days
Benefits of Relax Cash
Fast payday loans up to

£

750

Repayment terms up to 31 days
A free service
Little loans with a large impact
When applying for finance there are a few factors that you should keep in mind such as your long period and your repayment amount.
Bad credit should also not stand in the way of you and your financial wellbeing. Many lenders are not fazed by credit scores and assess their customers based on affordability instead.
Shorter loan terms can save you money
When applying for a loan it is best to choose the shortest loan period with the highest affordable repayment option. The reason for this is so that the loan accumulates less interest over the total period. This way you can save money on repaying interest and also pay the loan off faster. Fast loans are best taken out over a short period of time for this exact reason.
Lending can help improve your score
If you have a less-than-perfect credit score then taking out an online loan can actually help to improve your score. By keeping up with your repayments throughout the loan period and always paying on time your credit score will increase. This means that you will gain access to larger borrowing amounts and better interest rates in the future. Sounds like a win-win situation!
As a responsible organization, we practice honesty and transparency. This means that we will not recommend a lender that cannot be trusted or is not suitable for your financial situation. Every individual is unique which means that your finances are too. Simply complete a personal loan application and we will help you find the way to a better financial future.
Customer Reviews & Testimonials
"
My house flooded and I needed some emergency cash to fix the issues. Relax Cash was recommended to me by a friend and I could not have been more satisfied. They offered me a variety of loan optio...
Melissa M
— Dublin —
The most affordable short term loan options I have come across to date.
Reggie B
— East Kilbride —
Really quick processing and payout. I would only have liked a bit longer term.
Claudia C
— Reading —
Relax Cash Contact Details
Contact Number
E-Mail
Website