Pounds to Pockets
Updated
Payday loans up to £2,000
Repayment up to 12 months
In-page navigation
---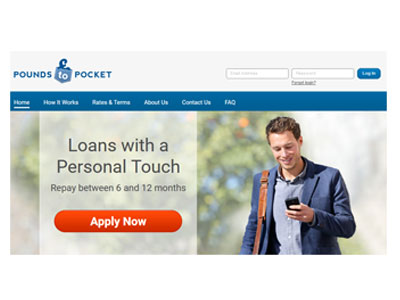 About Pounds to Pockets
At Pounds to Pocket keeping payday loans simple and straightforward is what we do.
Thus, you are able to build a personal loan with repayment terms of anywhere between six and 12 months. Launched in 2010, we are a two-time Credit Today Finalist for Alternative Lender of the Year in 2012 and 2013.
Unique features
As we are always looking at improving your customer experience, we have added to the list of unique features currently offered, including Pound Place, The Scoop on How to Save and a convenient mobile website.
Responsible lender
Authorised and regulated by the Financial Conduct Authority, we follow the all applicable UK lending rules and regulations.
And as a responsible lender, we run checks on credit history, affordability and creditworthiness to assess each applicant's ability to repay their short term loan.
Thousands of satisfied customers
Nine out of 10 customers would recommend us to friends, relatives and colleagues
93% of customers are satisfied with the service they receive
We have been providing payday loans to individuals, in the UK, for over four years and we form part of Enova International. Therefore, we are not only a trusted name in the industry but a preferred payday lender in the UK.
Pounds to Pockets Services
Our payday loans range from as little as £200 or as much as £2 000.
We understand that the repayment of your loan should be well within your affordability and thus, we offer flexible repayment terms. We offer extended repayment terms of between six to 12 months.
How do we work?
To apply for a payday loan from Pounds to Pocket, you are required to submit your online application to receive a decision. Should you be approved, you are required to select the loan amount and repayment schedule that best suits your requirements.
You are able to repay over a period of six to 12 months. This allows you to set up a set repayment date with fixed repayment amounts. Once your loan has been approved, the funds will be sent within 10 minutes. It is as easy as that and you will have the funds you require.
Choosing the best loan to suit your requirements
As a reputable lender, we believe that the most important part of finding a loan is doing research to ensure the lender you choose is suitable for your unique financial situation. You should first consider your requirements, such as the loan amount and loan purpose. Just as importantly, you should have a clear idea of what your current affordability of a fast loan is. This includes repayment amounts, loan duration and the total amount to be repaid. Once you have determined the above, you are able to choose the best lender.
Pounds to Pockets Product Details
Loan Type

Payday loans

Loan Amount

up to £2,000

Repayment

6 months to 12 months
Benefits of Pounds to Pockets
Pound to Pockets is the number one payday lender in the UK
So, if you wish to apply for a Pound to Pockets payday loan, simply follow these easy steps to get the funds you urgently require.
1. Application
It is as easy as applying online for a loan amount of up to £2,000. This can be done from the comfort of your home or on the go with your mobile device
2. Decision
Once you have submitted your online application, you will receive a decision on your loan.
3. Funding
Should you be approved, the cash will be sent within 10 minutes.
4. Repayment
Repayments will take place for a term of six to 12 months, depending on the loan term selected during the online application.
Personal loan requirements
Before applying for a payday loan, you should ensure you meet the following requirements.
You should have a valid bank account
You are required to receive an income through employment or self-employment
Be a resident of the United Kingdom
You must be at least 18 years old
Repayment options
We like to give our customers options, so you are able to choose to repay your personal loan between six and 12 months with the following options:
Debit card
Scheduled payments will be automatically withdrawn from your debit card on your due dates.
Direct debit authorisation
If you don't have a debit card, this option might suit you best. The scheduled payments will be automatically withdrawn from your bank account on your due dates.
We are here to help you
The purpose of our business if to offer financial help, and we believe that this is what sets us apart. As we assist to ensure you are able to afford our payday loans. Our aim is to improve your financial situation, thus, should you be looking for a flexible lending option, with loan amounts up to £2,000 and repayments from six to 12 months, we are your go-to lender.
Customer Reviews & Testimonials
"
The user-friendly site that lets you apply online in minutes. It is so convenient.
Raine W
— Colchester —
I thought only in a perfect world could such a perfect loan solution exist, I was wrong, it's right here!
Shena S
— Winchester —
Pounds to Pockets Contact Details
Contact Number
E-Mail
Website
Physical Address
---
Postal Address
PO Box 74347, London, EC1P 1YZ, UK
Opening Hours
Monday

08:00 – 21:00

Tuesday

08:00 – 21:00

Wednesday

08:00 – 21:00

Thursday

08:00 – 21:00

Friday

08:00 – 21:00

Saturday

10:00 – 18:30

Sunday

10:00 – 18:30