Payday loans up to £1,500
Repayment up to 5 months
In-page navigation
---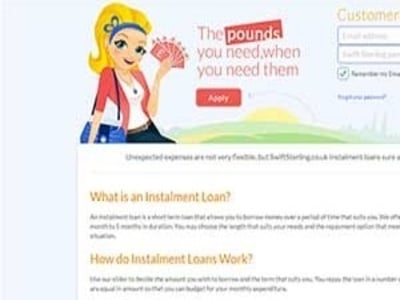 About Swift Sterling
SwiftSterling.co.uk forms part of the MMP Financial Limited group of lending brands.
As we form part of such a reputable financial services provider, we have successfully earned the name of a reputable payday lender in the UK.
What do we offer?
Our short-term loan allows you to borrow money over a period of time that suits you, with repayment terms of one to five months. The term of your loan is your choice and it ensures you are able to afford the repayment of the loan comfortably.
Equal repayments
Our online slider will help you to decide the amount you wish to borrow and the repayment term that suits you. The repayment instalments are equal in amount so that you can budget for your monthly expenses accordingly.
Safe, responsible, convenient
As a responsible lender, all of the costs you acquire are transparent and listed on our website and explained in our contract. Furthermore, there are no hidden charges and no penalties for early repayment. We value our customers and provide a service that shows our commitment to our customers.
Easy online loan application
The entire loan application is done online. Simply complete our application and you are one step closer to getting the payday loan you want.
Swift Sterling Services
If you are looking for a payday loan of up to £1500, we are the perfect payday loan provider for you.
Applying online
Visit our website and use our simple sliders to choose the loan amount you require and the repayment option that best suits you. Thereafter, you will need to complete our online loan application form. Once you have completed the application form, we will conduct all the checks we need to determine your eligibility for the loan you have chosen.
Quick approval process
We use online tools such as credit reference agencies to verify all information and to ensure you are eligible for the loan you wish to apply for. The approval of your loan is based on the outcome of the information you have provided and all the checks we perform.
What we offer our customers
Should you be approved for a SwiftSterling.co.uk loan, you will have a personal, secure online account with us. This will enable you to accept the fast loan offer, make additional payments, and apply for a new loan. You will be required to sign your loan agreement, shortly afterwards; the money will be on its way to your nominated bank account.
Easy repayments
We like to keep you in the loop, so we may use both email and SMS text messages to ensure you are aware of the details of your loan and the repayment thereof.
Swift Sterling Product Details
Loan Type

Payday loans

Loan Amount

up to £1,500

Repayment

30 days to 5 months
Benefits of Swift Sterling
PAYDAY Loans
PERSONAL Loans
QUICK Loans
Swift Sterling has you covered with a payday loan that works for you
Simply apply for a loan online and should you meet our criteria, you could be eligible for up to £1,500.
Loan requirements
Be at least 18 years old
Currently living in the United Kingdom
Regularly employed with a net income of at least £667
Receive your pay directly into your bank account
Fast, industry leading technology
All our loan processing is done using modern, fast and industry leading online identification and credit checking tools. It is our way of keeping our quick loan services as simple as possible. However, should we require additional documentation; we will contact you to discuss any additional information that might be required.
How much can I borrow?
The maximum personal loan amount currently is £1,500 though this is constantly being reviewed. The approved loan amount will vary based on your monthly expenses, income, and other criteria that we use to determine eligibility. First time customers are able to borrow up to £750.
Low interest rates
A daily rate of 0.8% per day will incur on the principle loan amount and the total amount of interest charged will vary based on loan amount and selected loan term.
Stay in touch
Email us, call us or you can chat with a member of our team at any time to discuss any queries you may have. We are always ready to assist you. Additionally, once the payday loan is finalised, we will remind you regularly of the repayment dates and amounts to ensure you are always informed.
Personal online account
Your convenient personal online account helps you stay informed and allows you to check current outstanding balance, make additional payments, see the payments due and repayment due dates of the entire term of the loan.
Customer Reviews & Testimonials
"
Simple and straightforward payday loan option that anyone can afford.
Lorren B
— Salt Hill —
I needed to fly my sister up to come and see me. I was low on funds, but thankfully I was able to get this loan and it was affordable and easy to come by.
Velvet M
— Brighton —
Swift Sterling Contact Details
Contact Number
E-Mail
Website
Physical Address
Beechwood House, 2-10 Windsor Rd

Slough

England

SL1 2EJ

United Kingdom
Opening Hours
Monday

07:30 – 23:00

Tuesday

07:30 – 23:00

Wednesday

07:30 – 23:00

Thursday

07:30 – 23:00

Friday

07:30 – 23:00

Saturday

07:30 – 23:00

Sunday

14:00 – 22:30