Peer-to-Peer Lending up to £100,000
Repayment up to 60 months
In-page navigation
---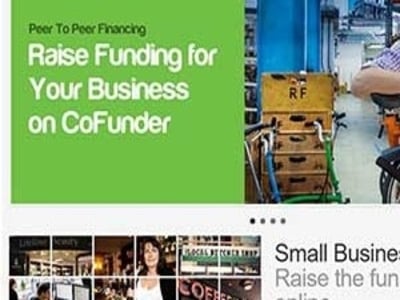 About CoFunder
Within the crowdfunding industry we have proven to be the leaders and proud of the fact that we were created by the same team behind SeedUps.
We have learned a lot more of business funding since we launched SeedUps, and as a result, we have raised to new heights in the finance industry.
International footprint
Our international footprint reaches to Ireland, the UK and the USA with over two thousand start-ups proudly registered on the platform. We are proud to say that we have played a fundamental role in thousands of individuals and businesses reach their full potential with the funding they needed to achieve this.
Matching lenders and borrowers
One thing we understand is that the restrictive lending policies of banks simply do not work for thousands, and so we developed CoFunder. As a result of our knowledge and understanding of your needs, we created a platform that is aimed at quality, growth based companies seeking finance.
If you are looking expand and/or create jobs but do not have access to the necessary working capital to do so, we are able to connect you to reliable lenders. Businesses are now able to raise from £5,000 to £100,000 in capital from our crowdfunding backers, provided that you meet the required credit score but the backers ultimately decide which companies they want to fund.
Advantages of our revolutionary peer to peer lending system
We welcome creditworthy businesses that have funding requirements to connect directly to lenders with available capital wanting to invest via the peer-to-peer lending platform. Borrowers are able to do so without the restrictive lending practices and high costs associated with bank funding and other traditional forms of lending.
CoFunder Services
The services we offer aims to facilitate business and personal loans of between £5,000 and £100,000 with a repayment period of between three and five years for creditworthy borrowers. Funders must bid for interest rates on their loan offers.
Direct relationships
Direct relationship between borrowers and lenders improves the quality of service, and the entire process in general. Dealing with real people rather than faceless institutions makes borrowers less likely to default as they have a true sense of ownership. Our advanced social networking tools serve to further facilitate promote these direct relationships.
Who can apply for a loan?
In order to apply for a loan, you must be a UK business and you must have been trading for at least two years. A series of credit checks and searches are conducted to ensure that only creditworthy businesses form part of the platform.
Our loans
There is a minimum loan term of three years and a maximum term is five years. A 2% drawdown fee of the loan amount and 1% per annum of the outstanding balance will be charged. There is no obligation to accept a peer to peer loan offer from lenders and payments are made by direct debit.
Better interest rates and minimal fees
Lenders prefer our crowdfunding platform for investment as they are offered better interest rates and they can choose their own desired return on investment.
CoFunder Product Details
Loan Type

Peer-to-Peer Lending

Loan Amount

up to £100,000

Repayment

3 years to 60 months
Benefits of CoFunder
Peer-to-peer lending
Fixed-rate investments
No fees or hidden charges
With the lowest rates in the UK, you can't go wrong with CoFunder
How do I lend? It really is very simple!
All lenders have to do is browse the CoFunder website and decide on the companies you wish to lend to. The offers lenders make are completely personalised and they have the flexibility to decide how much they want to lend and how much interest they want in return. It is as simple as that.
Funders are required to meet the following criteria:
Individual investor are required to be over 18 with a valid passport or driving licence and have a UK bank account
Lending companies are required to be registered with Companies House and have a UK bank account.
Risk, returns and fees
Lenders can rest assured that all funds awaiting lending will be held in a UK bank account and can be withdrawn at any time. For peer-to-peer loans that have been approved and awaiting funds, will receive funds through the CoFunder platform and it will be transferred into a bank account held in the company name.
Creditworthy borrowers and reliable lenders
As a result of the series of credit checks and other searches we conduct on all borrower businesses and its directors, we are able to verify identities and addresses and other important information that guarantees that only creditworthy borrowers have access to the CoFunder platform.
Fees
A 1% annual servicing fee for each long or short-term loan, based on the total amount loaned is payable annually, which will be deducted on a comparative basis within the first year of the loan. There are no fees if you do not have any active loans.
Customer Reviews & Testimonials
"
I had some trouble uploading the necessary documents to their website, but overall, a fantastic group of people. Always willing to help.
Lucas M
— Bath —
As an entrepreneur and frequent investor, I am always looking to make a quick buck or two. Who isn't? Peer to peer lending allowed me to do just that. It's a mutually beneficial arrangement that ...
Muhammed H
— London —
Great for unforeseen expenses. My son accidentally threw his baseball through our neighbour's window. I didn't have the money to pay to replace it at the time, so I turned to CoFunder. Having use...
Logan M
— Manchester —
CoFunder Contact Details
Contact Number
E-Mail
Website
Physical Address
Bay Road

Londonderry

Northern Ireland

BT48 7TG

United Kingdom
Opening Hours
Monday

09:00 – 17:00

Tuesday

09:00 – 17:00

Wednesday

09:00 – 17:00

Thursday

09:00 – 17:00

Friday

09:00 – 17:00

Saturday

– Closed

Sunday

– Closed