Quick and easy
Low-interest starting from 10%
Repayment up to 5 years
In-page navigation
---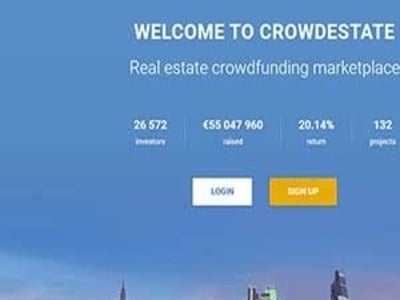 About Crowd Estate
If you are looking for a high-quality, high-return crowdfunding marketplace that specialises in real estate investment opportunities; we have created a leading platform that facilitates what you are looking for.
Only the best investment opportunities
We have developed close relationships with various real estate developers and brokerage companies.
Thus, our investors have access to a vast number of pre-market real estate investment opportunities, which are only the best investment opportunities available. Ensuring the viability and earning potential of our investors.
Active marketplace and innovative technology
Investors are offered access to our online marketplace. It is our marketplace and underlying peer-to-peer loan technology that gives our investors access to real estate investment opportunities regardless of location or time zone.
New investment power
We are honoured and proud that thousands of investors have already joined us to form a new investment power. It is the power to be able to fund promising real estate investment opportunities within just few minutes.
Real estate capital
Crowdestate is a proud and active partner of real estate entrepreneurs that have an innovative investment idea but not enough capital.
What we do is act as a professional funding partner. Real estate developers have access to thousands of willing investors.
Our job is to consolidate all the investment orders into single lump sum to make your dream a reality, and fund your way to success.
Crowd Estate Services
Crowdfunding is an innovative, internet-based way to borrow funds to finance various projects.
Usually, the necessary funding is contributed by large number of people in smaller amounts via a peer to peer loan system. It is often used to raise funds for charities, politics, product development and other commercial projects.
What is crowdinvesting?
Crowdinvesting is segment of crowdfunding. It is a platform that sees profit-seeking investors jointly funding business projects or companies. The proportion the original investment made by the investors into the project or company, will determine the revenues or profits earned. It is popular as it allows smaller investors to participate in funding large business projects.
What have we achieved?
15 908 investors
€20 066 401 raised
23.78% return
43 projects
Why Crowdestate?
Here are a few reasons why investors and borrowers prefer us as their crowdinvesting platform.
Transparency
Transparency is one of our core values. Thus, we publish all relevant information necessary for making a sound investment decision that are based on investors' personal investment preferences and risk tolerance.
Best investments opportunities
Although we have a large number of pre-market real estate investment opportunities, we only offer the best investment opportunities. About 5% of investment proposals survive our screening process. It is how we ensure you are only investing in the very best, most viable real estate investment opportunities.
Easy and trustworthy
As you are able to invest from as little as 100 euro and with all the background information, business plans and financial models we provide, makes real estate investing quick and easy without the need for traditional property finance.
Crowd Estate Product Details
Loan Type

Peer-to-Peer Lending

Interest Rate

from 10%

Repayment

5 years
Benefits of Crowd Estate
Peer-to-peer lending
Automated investments
Flexible repayment periods
From lending to investing, we offer all the services you need
If you are looking at investing, this is how it works.
Sign up
Create an investment account
Transfer funds to your investment account
Select an investment opportunity and invest
Earn and exit
Invest again or withdraw funds
New investment opportunities
Every single real estate investment opportunity that we offer is accompanied with adequate background data. It is how we help you to make a expert investment decision. Although all relevant information required for making sound real estate investment decisions is transparent and available, all investment decisions are made by our members individually. This is often based on their personal investment preferences and risk tolerance.
Do you need capital?
Applying for a bank loan or a personal loan through a traditional lender is not only time consuming but also a complex process and often good companies with excellent projects receive minimal credit facilities or no credit at all.
We connect borrowers and investors
The crowdfunding industry is changing the way companies get the funding they require, and we help by creating direct connections between investors and companies. You could have your project funded within minutes. Our investors are keen on high-quality or high-potential projects.
Our promises to you
Simple
We guarantee a funding service that is easy and simple. All you have to do is just complete the electronic online loan application on our website or send us an e-mail. You could have your project funded in no time.
Fast
Once we have approved your project, it will be published and opened it on our website. This gives you access to thousands of potential investors to fund your project.
Competent
Due to our extensive experience with real estate and crowdfunding projects, we are able to evaluate your project and suggest improvements, if and when needed. We ensure that we provide comprehensive info to our investors to make investment decision quick and easy.
Transparent
All our fees are transparent and you will in no way be left in the dark. We ensure our customers have a clear overview of our fees and the total cost of using the Crowdestate platform to raise funds.
Customer Reviews & Testimonials
"
In my early twenties, I had racked up quite a bit of credit card debt, not thinking of how I was going to pay them back on my minimum wage salary. I had applied to every possible bank, pleaded my...
Micheala M
— Birmingham —
Their service is decent, and I find that their rates are far lower than the rest, but they lack follow-through communication. I had to phone several times to get updates on the status of my appli...
Theo C
— Galway —
I have enquired at several banks, and Crowd Estate was the first to get back to me, within minutes. I value their sense of urgency and speedy response. The entire process took less than a week an...
Denise H
— Liverpool —
Crowd Estate Contact Details
Contact Number
E-Mail
Website
Physical Address
136-148 Tooley St

London

England

SE1 2TU

United Kingdom