Personal loans up to £25,000
Low-interest starting from 2.8%
Repayment up to 84 months
In-page navigation
---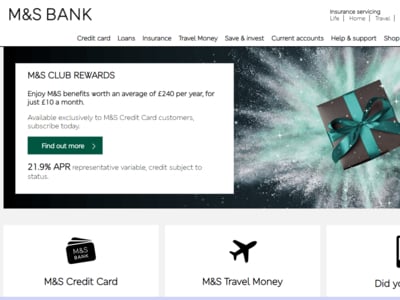 About M&S Bank
Marks & Spencer Bank has a proud track record of assisting UK citizens without fail with their personal loan needs over the last nine years.
The best service clients can find
Backed by a banking licence and a board of directors and operating as a joint venture between HSBC and Marks & Spencer, M & S Bank assures high standards of service to clients.
M & S Bank is a registered bank that offers competitive interest rates to customers. Whether customers are borrowing 10, 000 or 25, 000 pounds, the bank offers affordable rates based on the APR.
The bank is under the jurisdiction of the Prudential Regulation Authority and is regulated by the Financial Conduct Authority. Marks & Spencer Financial Services plc is entered in the Financial Services Register and is served by highly trained staffing personnel.
High standards of Lending
M & S prides itself on fair standards of practice underwritten by its commitment to the Standards of Lending Practice document: They will provide you with information about their products and services and how they work, in a clear and understandable way.
They will endeavour to make sure their products and services offer, wherever possible, the flexibility to meet your needs. They will treat you fairly and reasonably at all times and make sure that you are provided with a high level of service. They will always aim to help you if they see, or you tell them, that you are having trouble financially.
M&S Bank Services
Only bona fide UK residents qualify for a personal loan from M & S Bank.
Applicants must be over the age of 18 and earn more than 10,000 pounds a month to qualify for a personal loan. A personal loan from M&S Bank offers fixed monthly repayments, over a fixed period of time, making it easier for clients to manage their money
Example of the loan rates table (for existing customers):
A loan amount from 1,000 pounds to 2,999 – can be subject to a 12-month to 84-month payment term – Illustrative APR = 21.8%. Maximum APR = 21.8%.
From 3,000 pounds to 4,999 – can be subject to 12 -84-month payment term. – Illustrative APR = 18.8%. Maximum APR = 20.8%.
From 5,000 pounds to 7,4999 - can be subject to 12-84 month payment term – Illustrative APR = 3.9%. Maximum APR = 9.9%.
Personal Loan Quote Tool
Clients can check whether they qualify for a loan through M & S Bank with their loan quote tool that can be located on their website. This Personalised Loan Quote Tool will do a credit check on each client's credit file. Clients can go into the portal and click on the amount of the loan needed.
The applicant then chooses the repayment plan and indicates the purpose of the loan. The customer then inserts their contact information in the blocks provided and confirms the details. The loan can only be granted once an agreement has been signed by the applicant.
M&S Bank Product Details
Loan Type

Personal loans

Interest Rate

from 2.8%

Loan Amount

up to £25,000

Repayment

12 months to 84 months
A helping hand in time of need.
The cash crunch can hit anyone at any time which means it becomes difficult to commit to loan repayments.
However, existing clients who struggle to keep up with payments need not worry because M & S Bank goes out of its way to assist them. M & S Bank assures that accounts of clients who are battling to pay will be kept up to date as long as the minimal contractual payment is made.
The bank will adjust the monthly contractual payment to make it more affordable for the client.
Keeping clients' information secure on the web portal
M & S Bank promises a high level of confidentiality around clients' internet browsing and web transactions. The bank is transparent about how it deals with clients' information and browsing sessions.
Customers can click on the privacy notice information on the website, http://bank.marksandspencer.com to view all the information regarding this important section.
The bank is upfront about the fact that client information is collected by trusted partners on its website, so it can follow patterns that can improve services. The bank's cyber-file security technology on its website protects clients from potential hacking and fraudsters.
Home improvement loans
Maybe a client would like to build an entertainment centre onto a home or add a new upgrade to a home that has just been purchased. A home improvement loan gives clients access to the money immediately and the amount can be paid back on payment terms the client determines. This is what the bank offers:
Repay your home loan over a period of 12 to 84 months on loans between £1,000 and £20,000, or over a period of 12 to 60 months on loans between £20,001 and £25,000
Overpayments are free of charge, lowering the interest you pay
Personalized loan quotes which won't affect your credit score
Customer Reviews & Testimonials
"
I have found M&S Bank easy to apply to for a personal loan and when I went to repay the previous two loans early it was very straightforward to get a settlement figure and make the early repaymen...
Buchanan C
— Brighton and Hove —
I took out a personal loan online with M&S Bank. Pros: Straight-forward online application, cheaper rates (at the moment), longer-term (at the moment), funds put into your account through electr...
Rooney C
— London —
The application process was easy to understand, the approval was through quickly and the money in my bank in very promptly. The interest rates were good. When I, unfortunately, was made redundant...
Tee R
— Essex —
M&S Bank Contact Details
Contact Number
E-Mail
Website
Physical Address
The Mall, Patchway,

Bristol

BS34 5QT

United Kingdom
---
Postal Address
PO Box 10565 51 Saffron Road , , Wigston, LE18 9FT, United Kingdom
Opening Hours
Monday

10:00 – 16:00

Tuesday

10:00 – 16:00

Wednesday

10:00 – 16:00

Thursday

10:00 – 16:00

Friday

10:00 – 16:00

Saturday

– Closed

Sunday

– Closed