Personal loans up to £1,000
Low-interest starting from 229.95%
Repayment up to 1 year
In-page navigation
---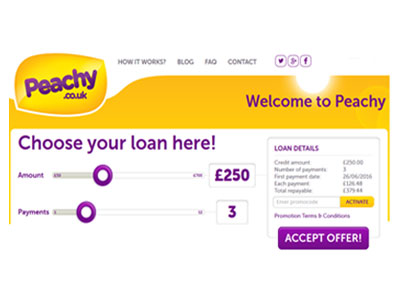 About Peachy
When your life is peachy it means that you haven't got a worry in the world and that your problems are a million miles away.
The only thing to spoil this happy picture is money problems. Unexpected expenses, overdue bills, sick kids or your vehicle breaking down can all put a wrench in your finances and cause you undue stress and problems.
Make the picture peachy again
Things like that in life happen and it can be very frustrating when you don't know where else to turn. Our aim is to help you make the picture peachy again by giving you the personal loan that you need when you need it. We specialise in short term online personal loans that were designed with you in mind.
Our website is a proud financial resource centre where you can gain a wealth of information and learn about everything to do with your finances. Apply for a loan, learn how to save or keep up to date with the latest financial news and hottest trends.
The most flexible repayment terms
Our service offers the most flexible repayment terms that can be customized to suit your individual budget.
There are multiple repayment options so that you don't need to have the added pressure when it comes time to pay back your loan. Our online short-term loans allow you to borrow between £100 and up to £1 000 in as little as 24 hours.
Simply apply online to see if you qualify for one of our online personal loans.
Peachy Services
Getting your personal cash loan was so simple so why should repaying it be different?
It's difficult to know exactly how much you have to spend every month and how that will affect your monthly budget. For this exact reason, we have given you more options when it comes to repaying your loan.
Flexible repayment terms
Our payday loans don't need to be paid in full by your next salary date. Instead arrange to pay them over 1, 2 or 3 instalments so that you can budget better and have better control over your finances.
If you need more time in order to repay your loan then just let us know and we will extend your payment terms.
Calculate your credit
If you are not sure how much money you can afford to borrow, use our helpful online calculator to help you decide.
Select how long you would need to repay your desired amount and we will give you a basic idea of your monthly instalment expectations.
This will allow you to easily review at a glance how much the bad credit loan will cost you over the period of time you decide to take it over.
Our multiple payments rates reflect the APR rate that you will be charged so that you always know what your repayments will be.
In the practice of safe lending, we will never offer you more money than you can result afford to repay without causing yourself additional financial strain.
Peachy Product Details
Loan Type

Personal loans

Interest Rate

from 229.95%

Loan Amount

up to £1,000

Repayment

30 days to 1 year
Benefits of Peachy
PERSONAL Loans
SHORT-TERM Loans
BAD Credit Loans
Peachy has affordable personal loans, its quick and easy to obtain
Once you have applied for one of our online personal loans and see how easy it is, why keep that information to yourself?
Sharing is caring so why not let your friends know how they can benefit from our online service and stop them having sleepless nights. Just by referring us to one of your friends we will you £15 for your trouble. As our business grows and we learn more about our clients we can adapt our products to suit your needs even more efficiently.
Assist your friends and earn yourself some cash at the same time. Your friends will be grateful that you are sharing your new found financial freedom with them and the more friends that you invite the more money you will end up earning.
The refer a friend program
Our refer a friend program allows you to earn money by simply referring a friend to try one of our online loans. Once your friend has logged onto our website and enquired about an online personal loan application our clever system will trace the referral back to you and pay the referral fee of £15 for your effort.
If you are able to refer 10 friends then we will pay £150 directly into your bank account. The more friends that you refer the more money you will be able to make.
There is no limit to how many people you can refer and to make the referral process even easier you can invite your friends using your unique product code directly from your social media, email or messenger apps.
To 5 best reasons to choose Peachy.co.uk
If you are experiencing financial difficulty and you don't know where else to turn you should consider applying for one of our online personal loans by applying directly from our website.
Complete the online loan application and find out in minutes if you qualify.
The top 5 reasons for choosing our service include:
The low APR rate that we offer on our online personal loans
We are a responsible lender and will only approve your application if you can afford the loan
Apply online 24 hours a day and receive an outcome within a minute
Once approved the cash will be paid directly into your bank account within 90 minutes
Earn money for referring your friends
To reap the rewards apply for one of our simple online personal loans today.
Customer Reviews & Testimonials
"
I was in a bit of a financial bind, but now thanks to the personal loan they were able to give me, life really is just 'peachy'!
Spalding H
— Manchester —
I desperately needed to get some funds and Peachy was great in that they helped me see that the loan amount I wanted I was actually unable to afford to pay back. They helped me get a loan I could...
Kelan A
— St Andrews —
Low-interest rates, affordable fees, and easy repayment terms. What could be simpler?
Bruce A
— Mullingar —
Peachy Contact Details
Contact Number
E-Mail
Website
Physical Address
76 King St

Manchester

M2 4NH

United Kingdom
Opening Hours
Monday

08:00 – 20:00

Tuesday

08:00 – 20:00

Wednesday

08:00 – 20:00

Thursday

08:00 – 20:00

Friday

08:00 – 20:00

Saturday

10:00 – 18:00

Sunday

10:00 – 18:00