Magellan Homeloans
Updated
Repayment up to 360 months
In-page navigation
---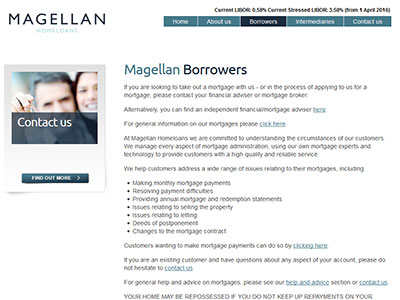 About Magellan Homeloans
Magellan Homeloans was founded in 2008 as a specialist mortgage lending company.
Flexible mortgage loans that are designed to assist individuals from varied credit histories and circumstances, is what we offer with the highest level of professionalism and expertise. We have earned a name as a reputable home loan provider in the UK.
The mission of our business is very clear and simple
We strive to provide affordable mortgage finance that enables borrowers to establish financial steadiness through a best in class tailored service, mortgage intermediary market. If you have complex borrowing requirements that require a personal flexible approach to home loans, we are the lender you have been looking for.
Mortgage intermediaries
We do not deal directly with the general public and you are therefore required to apply for our home loan products and services through an authorised, financial advisor.
More than just traditional credit scoring
At Magellan, we believe that restrictive credit scoring is not the most viable method to process home loans as each financial situation is different and requires a different approach. It is the very reason that we conduct manual underwriting on every single case. No credit scoring in sight. If you have not been able to obtain credit from a traditional lender, credit union or high street bank, we will be happy to assist you get the home loan you need to make your dreams a reality.
Magellan Homeloans Services
Clients who are finding it difficult to access mortgage finance because of their personal circumstances, employment status or past credit history will be glad to know that we offer mortgage intermediaries product solutions for these specific situations.
Our home loans can be used for the purchase or remortgage of a property in England and Wales used as your main residence.
Wide range of services available
Making monthly mortgage payments
Resolving payment issues
Providing annual mortgage and redemption statements
Issues relating to selling the property and letting
Deeds of postponement
Changes to the mortgage contract
Different product ranges
Our Complex Prime range products offers competitive pricing with flexible borrowing criteria and the Credit Repair range has fixed rate products and greater pricing options for borrowers.
Contact your financial advisor
If you wish to apply for a mortgage loan, please contact your financial advisor or mortgage broker.
Magellan Homeloans Product Details
Loan Type

Property Finance

Repayment

360 months
Benefits of Magellan Homeloans
Magellan Homeloans
We have our own mortgage experts and technology to provide customers with a high quality and reliable service.
And to apply you simply need to talk to your authorised, financial advisor. If you do not have a financial advisor, you are able to get in touch with one via our website.
Our mortgage loans
The maximum mortgage term offered by Magellan Homeloans is 35 years, subject to terms and conditions
Fixed, variable and tracking rate on home loans available
Flexible repayment terms
Mortgage loans for people with a less than perfect credit score or history
Competitive rates and fees
Professional, friendly customer service
Online mortgage portal
Magellan Homeloans are proud of the new online mortgage portal that is designed to make your online loan application, tracking and uploading of supporting documents easier. Visit our website to see how we can help you.
Credit repair lender
As you know by now, we are here to help individuals from all types of financial backgrounds and situations. However, we are the only credit repair lender that will consider applications from borrowers, provided that they,
can evidence a satisfactory 'adverse credit explanation'
have not incurred any adverse credit during the last 12 months
can afford the loan for which they are applying
Own your dream home today
There is no reason why you should not be able to apply for a home loan and own the home of your dreams. If you are looking for an alternative lender that offers you the very best service, products and support, look no further than Magellan Homeloans.
Customer Reviews & Testimonials
"
Good choice if you are looking to finance a property.
Jazzy M
— Leatherhead —
They seem to go out of their way to understand your needs and help finance a loan to meet those needs.
Libbie B
— Fetcham —
Magellan Homeloans Contact Details
Contact Number
E-Mail
Website
Physical Address
Ashcombe House, 5 The Crescent

Leatherhead

England

KT22 8DY

United Kingdom
Opening Hours
Monday

09:00 – 17:30

Tuesday

09:00 – 17:30

Wednesday

09:00 – 17:30

Thursday

09:00 – 17:30

Friday

09:00 – 17:30

Saturday

– Closed

Sunday

– Closed