Prosper Home Loans
Updated
Apply 100% online
Reliable loan options
Low rate loans
In-page navigation
---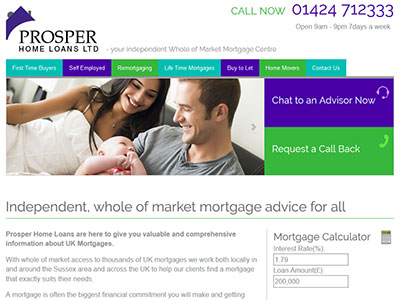 About Prosper Home Loans
At Prosper Home Loans, we know that buying property is not something to take lightly. As a customer, you need to think carefully before you decide on a home loan.
We opened this business so that we can be of financial aid and advice to customers who are interested in home loans. The last thing we want is to realize that our clients have made bad choices due to the lack of guidance from specialists who deal with these kinds of issues every day. We know that customers usually want a certain type of house but sometimes, this is not always financially feasible.
Approving a home loan is fast and easy
While we might take only 2 hours to approve your home loan, this is not where the job ends. We want to ensure that all the necessities have been dealt with and handled.
To us, it more than that, we want to ensure that our customers know the financial commitment they are putting themselves into before they actually sign for the loan.
There are big repercussions that will have to be implemented if the client can't pay the home loan on time. Give yourself some time before you commit yourself to a home loan or any form of long or short-term loan.
Make use of the home loan calculator
There are a number of advantages that come from making use of the home loan calculator and comparing loans. For starters, you will have a better idea of how much the payment and the interest charges will be.
Once you have all this information, it will be easier for you to apply for a home loan. It will even be better because you can start to prepare a budget ahead of time. There are a number of customers who like to plan their budget in advance and this will help them in that regard.
Prosper Home Loans Services
We don't limit our applications to only customers that are permanently employed. We also take self-employed and contractors into consideration.
We have realized that they too, just like everybody else needs a home and shouldn't be sidelined on the basis of their employment. If they can provide us with the information that we want, we will approve their home loan applications. We don't limit anybody at Prosper Home Loans; all mortgage credit requests are welcome.
The exceptional staff that go the extra mile
We wouldn't be doing our agents any justice if we didn't take pride for the work that they do. These are consultants that deal with every query that clients have.
They sometimes go the extra mile just to ensure that a customer is happy. Whatever problem you might have, just give us a call and we will attend to it as soon as possible. We will also ensure that you are equipped with all the information that you might need regarding your home loan application.
Prosper Home Loans adheres to a Private Policy
Everything that we do at Prosper Home Loans is private and confidential. We know how sceptical customers are given the scams that are happening lately and we understand.
No information will be given or shared with external parties. We have a database where we keep all customer's information and credentials. It makes things easier when they would like to apply for credit again in future. We will just request certain documents that are relevant and up to date as you might find that our system has old and obsolete documents.
Prosper Home Loans Product Details
Loan Type

Property Finance
Benefits of Prosper Home Loans
Get reliable

advice on mortgage
Quick

loan applications
With lower interest rates & outstanding service, we are the preferred home loan lender in the UK
Being able to afford our customers a home loan gives us so much joy. Owning property is something to be proud of and when we can help you get there, we feel we have done something right.
Although there are strict implications that will happen when you fail to pay your home loan just as with a vehicle loan which may be repossessed, if you have a budget in place and differentiate the needs against the wants, there will be great progress towards ensuring that your home loan is always paid.
Protect your credit profile against all odds
The way you nurture your baby or pet is the same way you need to protect your credit profile. Without a good credit profile, you will not be able to qualify for credit in the future and you may have to settle for a bad credit loan.
Repairing your credit takes a number of years and a great deal of effort. It is rather a better idea to not apply for a home loan if you are not certain that you will always meet your financial obligations.
What are customers saying about our services?
Our customers are happy about our property finance and we will keep maintaining their satisfaction. In essence, this is what we want to achieve; customer contentment against all odds.
Suggestions about how to improve our processes for the better are also welcome. We always want to keep our clients fulfilled and if you have an idea of how we can enhance our services to even greater heights, these suggestions and improvements are welcomed and will be well received.
Customer Reviews & Testimonials
"
Low-interest rate with flexible payment terms, awesome!
Leo O
— Silverhill —
Very glad I got my mortgage through you! Great service throughout the entire process.
Timothy H
— St Helen's —
Wonderful service as an affordable fee.
Curtis M
— Silverhill —
Prosper Home Loans Contact Details
Contact Number
E-Mail
Website
Physical Address
60 Sedlescombe Rd N

Hastings

Saint Leonards-on-sea

TN37 7DT

United Kingdom
Opening Hours
Monday

09:00 – 21:00

Tuesday

09:00 – 21:00

Wednesday

09:00 – 21:00

Thursday

09:00 – 21:00

Friday

09:00 – 21:00

Saturday

09:00 – 21:00

Sunday

10:00 – 21:00