Short-term Loans up to £1,500
Low-interest starting from 292%
Repayment up to 6 months
In-page navigation
---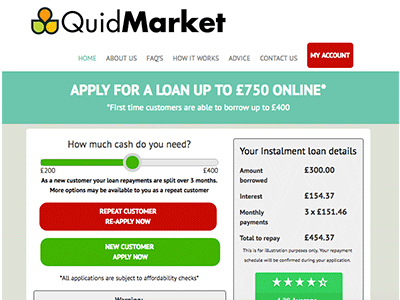 About Quidmarket
As we are a direct lender, we do not charge any upfront fees whatsoever, and applying for a short term loan with us could not be any easier.
If you meet our criteria, the loan amount could be transferred to your account on the same day without any hassles or endless paperwork. Simply visit our website and apply using our online application form.
No early repayment fees
We want our customers to save on interest and thus, you are able to repay your loan earlier, if you wish. The interest added to your loan is calculated daily, making it possible for you to save on your overall loan amount by repaying earlier.
At Quidmarket, there are no charges for early repayment of your loan. Why pay more for a loan than you need to?
Short term loan transparency
Top notch customer service from our customer care team, is what our clients can expect. Short term transparency is something we strive for, which is why all the information you need to decide whether you would like to apply for a loan, is clearly displayed on our website.
This information includes all the costs and interest rates, which is available to you before your application is completed, ensuring that you understand your short term loan. Additionally, there are no hidden charges or fees.
Quidmarket Services
Our short term loans range between £300 and £1500, with no hidden fees and if you payback earlier you will save interest.
Short term loans can be spent on what you want and it offers a quick solution when you are in need of finance.
Repayment options
Loans approved for new customers will be repaid over four to six months. Repeat customers may have more repayment options available to them. The repayment schedule assigned to your loan will be confirmed during your application, which you specify when you apply for a loan. It allows you the freedom to choose the best option to suit your current requirements.
Why is a QuidMarket short term loan the right loan for you?
If you have a temporary cash flow problem, our loans are designs to assist you financially. First time customers are able to borrow between £300 and £600 and return customers might be able to loan more. Don't wait to get your hands on the funds you require, simply let us help you with the finances you need.
What is a short term loan?
It is a loan that you borrow at a set amount, which is to be repaid by an agreed repayment period. Short term loans have a fixed rate of interest that is added to your principal loan amount and repaid on a monthly basis. The longer the term you choose, the more you will repay in total but you can repay your loan early and save interest without any fees.
Quidmarket Product Details
Loan Type

Short-term Loans

Interest Rate

from 292%

Loan Amount

up to £1,500

Repayment

4 months to 6 months
Benefits of Quidmarket
Get your loan on the same day
Flexible repayment options
Affordable short-term loans
Quidmarket offers the most competitive short-term personal loans
Applying for a short term loan should be easy and convenient and that is what we have aimed for, and achieved.
Easy loan application
To apply for a loan, visit our website and move the sliders on the loan calculator to your required loan amount and loan repayment term. Once you have selected the amount you wish to borrow, including the repayment period, click the 'Apply now' tab. You will now be navigated to next step of the application form.
Finalising your loan
You will now be required to provide your information on the online application form. It is important to ensure that the information is accurate. Upon completion of the online application form, we will review your application and a dedicated member of our team will make a final decision on your loan application.
Apply at anytime, anywhere
Even if you apply for a loan when we are closed, we have a team who work out of hours to process all loans. Simply apply using our online form and let us take care of the rest. You are able to apply online, meaning you can apply from anywhere, provided you have a device that is internet enabled.
Do you qualify for a Quidmarket short term loan?
In order to apply for our short term loans, you are required to,
Be at least 23 years old
A resident of the UK
Have a current bank account with direct debit facility
A debit card in your name
Full or part-time employment
Earn a salary of at least £1000 per month
Should you meet all of the above requirements, then you may qualify for a short term loan subject to affordability checks.
How long before I receive a decision on my short term loan application?
You should have a provisional decision straight away on your loan application. We will then let your know shortly thereafter if you have been approved for your short term loan.
Should we require some additional information before we can confirm our decision, we will be in contact with you.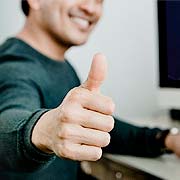 Quidmarket is a trusted & reliable provider of short-term loans
In our review, Quidmarket adheres to the compliance criteria in accordance with the Financial Conduct Authority, where the granting the loan will not cause financial distress to the consumer.
Quidmarket is a registered credit provider in the UK; FCA number 677995
Customer Reviews & Testimonials
"
I struggled with the online application process, but the consultant was able to understand all my needs and soon I had the money.
Inez K
— Belfast —
I needed the money urgently, but my loan was only paid out the following afternoon. Impressed with the application process though.
Dante B
— Liverpool —
Finally, a consultant who could understand my broken English! She helped with application process. Quick and simple. Thank you.
Francesco H
— Aberdeen —
Quidmarket Contact Details
Contact Number
E-Mail
Website
Physical Address
Hamilton House 9 Hucknall Road

Nottingham

UK

NG5 1AE

United Kingdom
Opening Hours
Monday

Open – 24 Hours

Tuesday

Open – 24 Hours

Wednesday

Open – 24 Hours

Thursday

Open – 24 Hours

Friday

Open – 24 Hours

Saturday

Open – 24 Hours

Sunday

Open – 24 Hours