Short-term Loans up to £1,000
Low-interest starting from 112%
Repayment up to 52 weeks
In-page navigation
---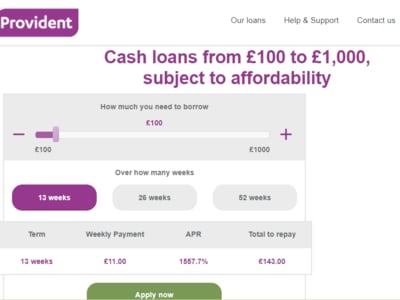 About Provident
Provident Financial is one of the leading providers of personal credit products in the UK lending market.
On offer, we have a number of products including home loans, credit cards through Vanquis Bank and online loans through Satsuma Loans. We guarantee to offer you the most comprehensive financial products in the industry.
We value our customers
Our customers are at the heart of our business since our establishment in 1880.
Provident offer cash loans between £100 and £1,000, which can be repaid over a range of terms and is also subject to affordability.
The personalised service we offer is like no other in the industry and we are continuously striving to enhance our services and products because we value our customers.
Our community responsibility
Provident is committed to helping people within our communities.
Not only do we provide much needed loan services but we also support and serve our communities. Our community programme aims to benefit those who live and work in the areas, in which we operate.
In 2015 we assisted 37 organisations across the UK. In 2016, we launched another exciting innovation, in which we allowed you to suggest charities that required support in the UK.
We also have a dedicated newsroom that keeps you up to date, every step of the way.
Provident Services
Available are short term loans from £100 to £1,000, which is subject to affordability.
Our repayment terms are flexible and allow you to choose the best option to suit you.
What are short term loans?
Short term loans are designed to alleviate short term money difficulties. It allows you quick access to the funds you require, in the shortest time possible without extensive loan procedures.
Provident short term loan benefits
FIXED weekly payments collected from your home
NO hidden fees for late or missed payments
CASH delivered to your door
FACE-TO-FACE service
Loan amounts available
The amount you are able to borrow depends on a number of factors such as your income, expenses and whether you are able to afford the loan repayments. The above information forms part of the application process. One of our team members will then visit you at your home to discuss your loan requirements.
Unsecured short term loans
We offer unsecured loans, which means you are not required to put forward any assets or property as collateral. The loan amounts available range between £100 and £1,000 over a repayment period of 13 to 52 weeks.
All-purpose loans
Do you have an unexpected bill or an unforeseen breakdown? Use our short term loans for whatever you need to. What you use the loan for does not form part of the lending criteria.
Provident Product Details
Loan Type

Short-term Loans

Interest Rate

from 112%

Loan Amount

up to £1,000

Repayment

13 weeks to 52 weeks
Benefits of Provident
Flexible repayment options up to 52 weeks
Bad credit

loan options
A transparent service
Provident's short-term loans are easy & hassle-free
We aim to assist as many people as possible to get funds that they might require urgently.
Our service is unique and customer-centred, guaranteeing the best lending experience for you.
Online application
To start the online application you would need to provide the following:
Your personal information including your name and date of birth
Your address details for the past three years
A contact telephone number and email address
Loan affordability
During our visit we will perform an affordability assessment, which is why we require you to provide your proof of income and expenses. Should you not be able to afford the amount you have applied for, you may be offered a lower loan amount that does suit your affordability.
Application process
1. Choose your loan option
The online calculator enables you to select how much you need to borrow as well as the repayment period. You have the option of 13, 26 or 52 weeks to make repayments.
2. Start your loan application online
To apply for a Provident loan you are required to,
Be a UK resident, aged between 18 and 74
Have a contact telephone number
Address details for the past three years
Agree to a home visit from one of our team members and an affordability assessment
3. Finish your application with a home visit
You will have provisional approval within minutes and the loan application will then be finalised by one of our team members after you a home visit to assess affordability.
What do I need for the home visit?
Proof of ID and address
Proof of income
Accepted proof of income
Payslip from your employer
Statement of earnings
Child benefit
Accepted proof of identification
Current photo card driving licence
Current signed passport
Utility bill dated within the last six months
Repaying your Provident short term loan
Upon loan approval, one of our team members will collect the repayment amount on a weekly basis. This will be done on a date and time that suits you, and it keeps your loan repayments as simple as possible.
Customer Reviews & Testimonials
"
Friendly service and easy to understand application process. My loan was approved in less than two hours
Keith O
— Canterbury —
The approval process was quick, but I had slight issues with the consultant. No worries though, as my loan was paid out the next day.
Sonny W
— Ipswich —
Provident Contact Details
Contact Number
E-Mail
Website
Physical Address
1 Godwin St

Bradford

England

BD1 2SU

United Kingdom
---
Postal Address
Customer Relations, Provident 1 Godwin Street, Bradford, BD1 2SU, UK
Opening Hours
Monday

Open – 24 Hours

Tuesday

Open – 24 Hours

Wednesday

Open – 24 Hours

Thursday

Open – 24 Hours

Friday

Open – 24 Hours

Saturday

Open – 24 Hours

Sunday

Open – 24 Hours