Fast online loans
Simple applications
Get approved today
In-page navigation
---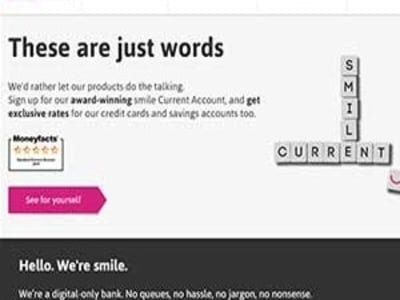 About Smile
Smile has its roots based in Manchester and was the first full service internet bank as well as the first internet-only bank in the UK.
Officially launched in 2002, we are your go to lender if you are seeking a debt consolidation loan.
Our services are offered with no queues and no closing times. What we operate on is the purpose to beat every high-street bank in the industry. Since our establishment, we have also sponsored the British Comedy Awards.
One loan for any purpose
Our personal loan is available exclusively to smile customers, who have been a customer for at least seven months. Use our personal loan service to consolidate your debt and take control of our finances today.
Strong ethical stance
We are part of The Co‑operative Bank and as thus, we share their strong ethical attitude. Customers are ensured of a customer-led ethical policy and we value input from our customers.
Smile Services
Have you been thinking of consolidating your debt to increase your disposable income?
Our personal loan can be used to consolidate your debt, which makes repaying your debt as simple as it could possibly be. Not to mention that it could save you money on interest, and improve your credit rating.
Benefits of our loan
We support thousands of ethical UK initiatives.
There is an early repayment option available.
There are fees for paying your loan back early.
No arrangement fee.
Get a fixed rate throughout the life of your loan.
Multi-purpose loan
At smile, we like to keep things straightforward and simple. Thus, we offer one loan that can be used for a range of purposes such as debt consolidation, vehicle financing or making home improvements.
Smile Product Details
Loan Type

Debt Consolidation
Benefits of Smile
Affordable debt consolidation loans
Lower your monthly repayments
Get a loan in just 10 minutes!
Your debt can be something of the pass, now that's something to Smile about.
Before you apply for a debt consolidation loan, we require you to meet the following requirements:
Aged 18 or over.
UK resident.
Earning a minimum gross annual income of £10,000.
An existing customer who has held a Co-operative Bank or smile current account for at least seven months
You are required to not be in arrears or have not missed more than two payments on any credit agreement (including payday loans) for at least six months.
One applicant must be employed whether full time, part time, self-employed or retired, with joint accounts.
Consolidating an existing Co-operative Bank loan is subject to having made no less than six repayments on your existing loan.
Should you be applying for a joint loan account, both applicants must be aged 18 or over, UK residents and reside at the same address.
Quick, easy online application
To apply for a debt consolidation loan only takes about 10 minutes, provided that you have all the information you require on hand. Even if you have submitted your loan application, you have no obligation to finalise a smile loan.
A standing order will be set up when you take out a loan, which means you will repay a fixed amount from your bank account for the repayment term of the loan.
How to set up a standing order
So we have accepted your loan application, you will then send you a standing order mandate along with your contract information. Should you enter into the loan agreement, you can simply complete, sign and return the mandate to us. Return the signed loan agreement and mandate in the pre-paid envelope that we have provided. Should the repayments be paid directly from your smile current account, we will complete the form on your behalf.
What you need to apply
You will be requested to provide the following information when applying for a loan:
Your income and expenses each month.
Your previous addresses from the last three years.
The account number and sort code for your main current account.
Apply in only 10 minutes
You can apply in as little as 10 minutes if you have all the information we need. You should know if your application has been successful within 24 hours, provided that you applied on a business day. If your application has to be referred to our specialist team, we will usually come back with a decision within two business days.
What happens next?
You will have a decision on your personal loan and transfer of funds within five working days after submitting your application.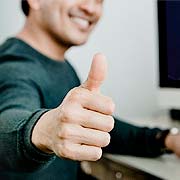 Smile is a trusted & reliable provider of debt consolidation
In our review, Smile adheres to the compliance criteria in accordance with the Financial Conduct Authority, where the granting the loan will not cause financial distress to the consumer.
Smile is a registered credit provider in the UK; FCA number 121885
Customer Reviews & Testimonials
"
Being in any kind of debt is unpleasant, thankfully Smile doesn't mind if I wish to pay off my loan earlier than the agreed-upon term!
Frederick L
— Whitby —
I was able to apply for my consolidation loan in under 10 minutes. The funds were paid out the same day.
Albert H
— Ipswich —
Smile Contact Details
Contact Number
E-Mail
Website
Physical Address
---
Postal Address
P.O. Box 101, 1 Balloon Street, Manchester, M60 4EP, UK