Credit Cards starting from £250
In-page navigation
---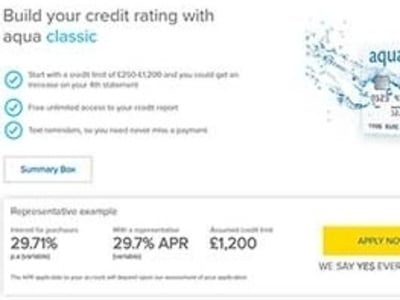 About Aqua
Aqua provides credit cards, even to individuals who do not qualify for credit cards provided by traditional lenders and high street banks.
Issued by one of the UK's leading specialist credit card providers, our success is due to affordable lending with fair and transparent pricing. Exceptional customer service is something we feel strongly about and we deliver accordingly.
Proudly based in the UK
We are proudly based in the UK with local customer service agents who are happy to help all customers that turn to us for credit card facilities. Our quick loan approval decisions are based on your particular circumstances as we understand the financial situations of our customers are all unique. As a responsible lender, we will provide you with tools to help you gain control of your finances, and help rebuild you credit rating.
Credit card benefits include
With the many benefits to owning a credit card, it makes financial sense to apply for your credit card today. Here are some of the benefits you can expect from your credit card.
Legal protection not offered by debit cards or cash
You are able to avoid interest if you pay off the balance in full and on time
Credit cards are an effective way to improve a bad credit score and avoid bad credit loans
A convenient payment method, which is accepted worldwide
Aqua Services
Competitive credit card facilities are our expert product service here at Aqua.
We offer credit cards to individuals with a less than perfect credit score, which is also designed to help rebuild credit ratings and help our customers regain financial strength.
Build your credit rating with aqua classic
Start with a credit limit of £250 to £1,200 with the possibility of an increase after four credit card statements
Free unlimited access to your credit report to keep up to date with your credit rating
Payment reminders via text messages to ensure you never skip a payment
We help you manage your credit card balance
Aqua follows the ethics of a responsible lender and we have there for taken it upon us to help you manage your credit card balance and improve your credit rating. Here is how we help you manage your finances effectively.
Reminders via text messages with regards to your payments and credit balance
Flexible payment dates
Friendly UK-based customer support line
Online balance checking, payment facility and account management
If you use your aqua credit card responsibly, make payments on time and staying within your credit limit, you could achieve a better credit rating
Aqua Product Details
Loan Type

Credit Cards

Loan Amount

from £250
Benefits of Aqua
Flexible repayment dates
Customer support line
Apply with bad credit
Getting a credit card with Aqua could not be easier!
Apply online for your Aqua credit card today, even if you have a bad credit rating.
The minimum requirements to apply for one of our credit card facilities require you to be a UK resident over the age of 18. We will only recommend a credit card and card limit that we think you can afford as part of our responsible lending practices.
Other requirements
You will need either a UK bank or building society account. It is required that you have not been registered as bankrupt or have bankruptcy proceedings against you, haven't received a county court judgement in the last 12 months.
We look for reasons to say YES
Although subject to credit checks, an aqua card could be granted to individuals who,
Are self employed and unable to prove a regular income
Have been affected by a CCJ (other than in the past 12 months)
Work part-time
Are students
Are new to credit
Have not had a credit card in the UK before
Have been turned down for a personal loan or alternative credit in the past
Are on a lower income
Different benefits, different credit cards
Aqua Advance – customers are able to reduce their rate over three years should they stay within their credit limit and make repayments on time and there are no extra fees on what is spent abroad.
Aqua Reward – Get 0.5% Cashback (up to £100 per annum) and there are no extra fees on what you spend abroad.
Aqua Start – Receive a credit limit of £100 - £300 and enjoy UK based customer service that helps you build and rebuild your credit rating.
Customer Reviews & Testimonials
"
When my bank declined my request to get a credit card, a friend recommended Aqua to me. I was worried since I had never heard of them before, but I applied and I haven't looked back. It's been a ...
Keegan S
— Bristol —
My favourite thing about having an Aqua credit card is probably that they sent me text reminders to pay my card before its due. I have a busy life and this helps me keep a good credit record.
Russell R
— Manchester —
Aqua Contact Details
Contact Number
E-Mail
Website
Physical Address
Kings Cross

London

England

GVPG+QM

United Kingdom
Opening Hours
Monday

08:00 – 21:00

Tuesday

08:00 – 21:00

Wednesday

08:00 – 21:00

Thursday

08:00 – 21:00

Friday

08:00 – 21:00

Saturday

– Closed

Sunday

– Closed