Low rate cards
Low-interest starting from 18.9%
Earn rewards
In-page navigation
---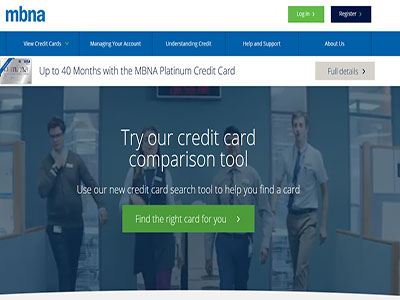 About MBNA
Based in the UK since 1993, we are Moneyfacts Consumer Credit Card Provider of the Year for the fourth consecutive year.
If you are seeking competitive offers on transfers and purchases, everyday low rates and added rewards, we have a credit card to meet all your credit requirements.
Credit cards from MBNA
Not only have we been providing credit cards in the UK for over 20 years, we also offer our customers different options, great benefits and services that make a credit facility optimal.
Different credit options
Balance transfer cards are designed to reduce the amount of interest you are currently paying on other more expensive credit/store cards. We offer long term balance transfer rate or a card with a lower balance transfer fee; you could find the best balance transfer credit card available.
A Transfer card a money transfer card that allows you to transfer money to a bank account quickly and with ease. You can clear more expensive loans or overdrafts and pay for unexpected expenses with our transfer card.
A transfer and purchase credit card is the best option if you are looking for a more all round credit card. It offers competitive rates on both transfers and retail purchases and it brings all your credit facilities together.
Rewards credit cards we offer our customers, reward you for simply making card purchases. From gift cards, air miles and more, you earn point that can be redeemed for many incredible offers.
Low rate credit cards have low interest rates that remain low so ensure you know exactly what you will be spending on your credit card.
MBNA Services
If you are looking for a credit card that suits all your needs and that you can get simply by filling in an online loan application, we have the answer you have been looking for.
MBNA All Round credit card
This is what our MBNA All Round Credit Card offers,
0% on balance transfers for up to 29 months when your account is opened with a 2.89% handling fee and the offer only applies to transfers made within the first 60 days. Thereafter, transfers made after the 60 days, a standard rate of 20.9% p.a. and 5% handling fee applies.
0% on money transfers for up to 29 months within the first three months with a 4% handling fee and after the 60 days, a standard rate of 22.9% p.a. and 5% handling fee applies.
0% on card purchases for up to 29 months within the first 60 days and after the 60 days, the standard rate for card purchases is 18.9% p.a.
Balance transfers
Transfer your existing credit and store card balances to an MBNA All Round Credit Card as it enables you to simplify your finances and save on interest repayments.
Money transfers
Move funds from your credit card to your bank account when you need a little more flexibility.
MBNA Product Details
Loan Type

Credit Cards

Interest Rate

from 18.9%
Benefits of MBNA
Choose a card that suits your needs
Competitive interest rates
Easy online loan applications
Finally, a credit card that meets all your needs
Applying online offers an easy, convenient way of applying.
However, we recommend that you find out if you are eligible before applying, which will not show up on your credit record and will not affect your credit rating.
Minimum requirements
You are aged 18 or over
You have been a permanent UK resident for three years or more
You have a UK bank or building society account
Personal information required
At least three year's address history
Contact details including an email address
Employment/salary information
Almost instant decision on applications
You can apply online in just a few minutes, provided that you have all the information required to process the application. Although, you could get an instant decision, some applications might be referred to a credit analyst for a final decision. Should this be the situation, you will hear from us within seven to 10 business days.
Fraud protection
You will not be liable for fraudulent transactions online or on the high street but we require you to give us notice of any unusual transactions or a misplaced card.
Paperless statements
We aim to achieve a credit card facility that offers the optimal convenient user-experience. One way of achieving this is with paperless statements. You will have access to your statements online, for which you are required to register. You can easily and securely manage your account online.
Contactless payments
Make straightforward, quick and secure payments of up to £30 with our contactless technology and there is no need to enter your PIN.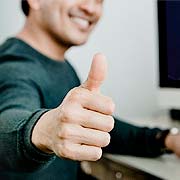 MBNA is a trusted & reliable provider of credit cards
In our review, MBNA adheres to the compliance criteria in accordance with the Financial Conduct Authority, where the granting the loan will not cause financial distress to the consumer.
MBNA is a registered credit provider in the UK; FCA number 204487
Customer Reviews & Testimonials
"
Loads of different credit card types to choose from, I actually have two. It worked out very well.
Sage H
— East Kilbride —
I opted for the rewards credit card and I have to say it is well worth the annual fees. I have a pretty low-interest rate too which is awesome.
Pamela V
— Colchester —
It was very easy for me to apply for my credit card online, I didn't know which option to go for, but a very friendly consultant helped me make the decision.
Ella W
— Liverpool —
MBNA Contact Details
Contact Number
E-Mail
Website
Physical Address
Cawley House, Herons Way, Chester Business Park

Chester

England

CH4 9FB

United Kingdom