Credit Cards up to £1,200
Low-interest starting from 24.8%
NO annual fees
In-page navigation
---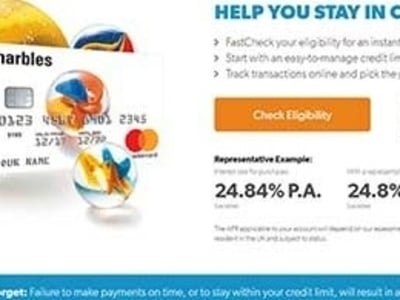 About Marbles
Marbles offer credit cards to UK residents. The credit we offer is provided by NewDay Ltd, of which Marbles is a trademark of NewDay Cards Ltd.
Our credit cards help you stay ahead
FastCheck your eligibility for an instant response before you apply.
You will start with a manageable credit limit of £100 to £ 1,200.
Account management is made easy as you can track transactions online and choose the payment date you want.
Tools to help you stay in control
We put our customers in charge of their account, which enables them to stay on top of their finances. How do we achieve this?
Manage your account online – Managing all your finances from one central platform makes life that much easier for you.
Choose your repayment date – By choosing your own repayment date, we offer you a little more flexibility.
Receive text alerts – Should you be reaching your credit limit, you will be notified via a text alert.
UK-based customer helpline – Supporting each one of our customers is how we like to do business and one of our helpful team members will assist you throughout your dealings with us.
Marbles Services
What do we do? We have made it easier to manage your finances and we are 100% certain that you will value everything your card has to offer.
What is the marble's card?
The marbles Mastercard helps you take control, and stay in control of your finances. You have all the flexibility and convenience you might require, as it is accepted all over the world and what's more is that no interest will be charged on purchases if every statement balance is paid in full by the due payment date. Not to mention all the additional benefits that a Marble credit card offers.
What to expect from our credit cards?
No annual fee
No interest will be charged on purchases if every statement balance is paid by its due date
marbles Mastercard is accepted all over the world;
Manage your account online;
Free text message alerts to help you manage your account and to keep you informed;
Make cash withdrawals worldwide;
UK-based customer helpline.
Extra benefit of rewards
The financial freedom and convenience of a credit card is its most attractive feature. However, with marbles in your pocket, you can enjoy rewards that enable you to buy things off the internet, enjoy bargains, pay bills, access finance quickly, and access great offers from other third parties.
Marbles Product Details
Loan Type

Credit Cards

Interest Rate

from 24.8%

Loan Amount

up to £1,200
Benefits of Marbles
Manage your account online
Make cash withdrawals worldwide
UK based customer helpline
No annual fee
Marbles - we design credit card packages that benefit our customers
Before you apply, we recommend that you FastCheck your eligibility.
This helps you to find out whether you could be accepted for a marbles credit card before you apply for credit online and it does not affect your credit rating.
Innovative technology
Innovative technology has made marbles the advanced credit card that helps you stay in control. All you have to do is use our FastCheck to check your eligibility, and apply online to receive a quick response on your credit card application.
Why use FastCheck?
It offers you the convenience of knowing if you could be accepted before you apply.
You will get an instant response as there is no waiting with marbles.
To check your eligibility will have no impact on your credit rating.
It is a quick check that saves you time, and that is what we strive to do.
Minimum requirements
There are a few minimum requirements you must meet before applying for a marble smart credit card. You can apply if,
You are over 18
You have a permanent UK address
You have a current UK bank or building society account
You have not been registered bankrupt in the past 18 months
You have not received a county court Judgement (CCJ) in the past 12 months
Convenient online account management
Our innovative online account management systems enable you to view transactions and track your balance and any time and to receive e-statements and manage payments.
Features of credit card
Manageable credit limit from £100 up to £1,200
You might be eligible for a credit limit review after three months
Spending alerts help you to avoid exceeding your credit limit.
Choose a monthly repayment date best suited for you and avoid costly payday loans and other expensive credit.
You are able to change your payment date up to twice a year.
What is the marbles secure service?
It is a service offered by marbles in partnership with Mastercard International that makes internet shopping more secure by using your marbles credit card. We only use the latest technology to keep your details secure whilst monitoring account activity and we are also able to intercept suspicious transactions. Giving our customers the peace of mind they deserve is always at the top of our agenda.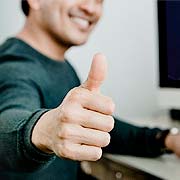 Marbles is a trusted & reliable provider of credit cards
In our review, Marbles adheres to the compliance criteria in accordance with the Financial Conduct Authority, where the granting the loan will not cause financial distress to the consumer.
Marbles is a registered credit provider in the UK; FCA number 690292
Customer Reviews & Testimonials
"
I wanted a credit card to make my life simpler, that is exactly what Marbles did for me. I pay no interest and no annual fees and can manage my account entirely online.
Cybill A
— Birmingham —
Marbles is amazing in that they reward me for using my credit card as if they weren't already great with no fees or interest rates if my account is paid by the due date.
Melinda A
— Blackpool —
As someone who gets paid on the 15th and 30th of the month, I was ecstatic when I found out that I got to decide when my payment date was in the month. It helps me manage my account much better.
Lauren R
— Brighton —
Marbles Contact Details
Contact Number
E-Mail
Website