Credit Cards up to £6,000
Low-interest starting from 34.9%
Low interest rates
In-page navigation
---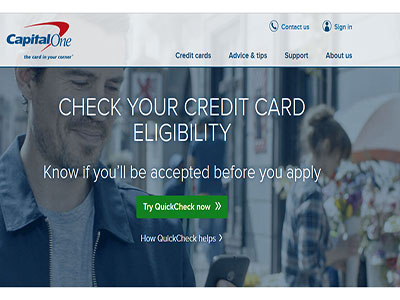 About Capital One
In 1996, we granted our first credit card and now we are one of the UK's top ten card providers.
We have made our business in the finance industry simple; our business from day one has been about helping people obtain the best credit card facilities available.
Four star rated credit card provider
Not only do we have pioneering tools like our online QuickCheck eligibility checker, we are also the only card provider with a four-star rated credit card from Fairbanking.
Simple, clear and supportive
Our business practices are driven by three clear principles, which are simple, clear and supportive credit card products and services.
Simple
Not only will you know whether you will be accepted before applying for credit, we offer simple services to make your life easier such as making payments on your mobile. Effortless money management is only one of the features of our competitive credit card packages.
Clear
Straightforward and clear credit card products, services, terms and conditions are how we present what we have on offer. You will never be left in the dark with confusing information when dealing with us.
Supportive
Our customers are at the heart of absolutely everything we do. Thus, you can expect supportive customer service throughout your dealings with us.
Capital One Services
At Capital One, we offer a number of credit card options that have been designed to cater to different requirements and financial situations.
Our most popular card for people with bad credit is the Capital One Classic credit card.
Apply now for a Capital One Classic credit card
If you would like to build credit or if you have bad credit, this credit card is the perfect credit solution for you. With a credit limit of £200 to £1,500 and up to two optional credit limit increases per year, it is easy to apply for with less demanding criteria. This facility helps you stay on top of your spending with email alerts.
Features of our services
Check your eligibility for a credit card, which will not affect your credit score
Response in 60 seconds
100% certainty before you applying
Top tips
We strongly encourage you to use your card sensibly and make your monthly minimum payment on time and to stay below your credit limit. In doing so, it ensure that you build your credit rating and be eligible for credit limit increases.
Interest Free Period
Why do customers prefer our credit cards? It's simple; we offer an interest free period.
We offer a maximum of 56 interest free days for purchases provided that the balance has been paid in full and on time
0 days for balance / money transfers and cash
Capital One Product Details
Loan Type

Credit Cards

Interest Rate

from 34.9%

Loan Amount

up to £6,000
Benefits of Capital One
56 days interest-free
Fast and easy online applications
Choose between a range of credit card options
Apply online and save time, effort and have you credit card in no time at all
As the only credit card with a four-star Fairbanking Award 2017, we offer the most convenient method of applying for a credit card.
How does credit card eligibility checker work?
QuickCheck is the quickest way to see whether you qualify for a credit card of personal loan. It is a free online credit card eligibility checker that gives you an immediate answer, a 100% guaranteed yes or no.
All you need to do is answer some personal, employment and residential questions and we will use this information to do a soft check of your credit file.
You are guaranteed an answer in 60 seconds. What's even better is that it will not affect your credit score.
Why use a credit card eligibility checker?
Eligibility checkers allows you to know if you qualify for a credit card without having to complete a full application. It saves you potentially unnecessary time and effort. Here is why we recommend you use the eligibility checker.
It will not affect your credit score. Regardless of the outcome, your credit score will not be affected and it allows you to have confidence of your application beforehand.
It matches you to cards you are eligible for should you not be eligible for the loan you have applied for.
You will get an answer in just 60 seconds. All we require is some personal, employment and home information.
Features of your card
Keep track of your account
The easiest and safest way to manage your account is online. It also offers the most convenience allows you to perform a number of actions from one central place.
Extra cardholders
You can get extra credit cards for up to three family members, managing your household expenses and more from one account.
Balance transfers
Save money by transferring other high interest credit forms to your Capital One account.
Giving you peace of mind
We offer all the necessary systems to ensure you are 100% secured, from anti-fraud protection and monitoring, online security and identification theft prevention support service.
Customer Reviews & Testimonials
"
From the moment I came across Capital One's website, I knew that it was a good fit for me. They offered affordable credit cards that don't have massive credit limits which is exactly what I was l...
London A
— Hull —
I applied for my card and was approved instantly! My card was delivered to my workplace, no muss no fuss.
Dina C
— York —
Lower interest rates than other lenders I looked at and reasonable interest-free periods.
Betty B
— Manchester —
Capital One Contact Details
Contact Number
E-Mail
Website
Physical Address
2a, 388 Dickenson Rd

Manchester

England

M13 0WQ

United Kingdom