Credit Unions up to £20,000
Low-interest starting from 2.9%
Repayment up to 60 months
In-page navigation
---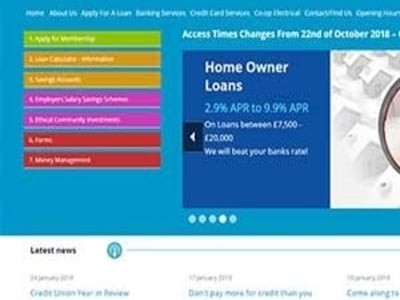 About The Credit Union
Our roots can be traced back to 1962 when The Credit Union started to provide low cost loans and secure savings accounts with the primary objective to encourage, and to provide the facilities to enable people to save.
However, we also provide low cost quick loans to our members when they need to borrow.
Largest, fastest growing credit union
We are now one of the largest and fastest growing credit unions in the UK. Membership is open to anyone who lives, works, studies or worships in qualifying areas. Visit our website for a list of all areas covered. Employees of any one of the organisations that form part of our platform, anywhere in the UK, can apply for membership and our loans.
How do credit unions work?
Members of the credit union become members of the cooperative and can use one of several savings accounts open to become a member. All savings form part of a pool of money, which is held in a trust. Members can withdraw savings within five days upon notification. The Credit Union is able to offer low cost and flexible loans to its members.
Ethics, values and principles
Although our primary objective is to promote sound financial management and to encourage members to save, we do offer low cost personal loans that are there to assist you when you need funding. There is no minimum savings level unless you take a loan, and no minimum loan value. By encouraging saving we prevent debt. Our 'Saver Loans' allow members to over time build up savings. The end result is that our members are able to end the cycle of borrowing.
The Credit Union Services
Our members have access to loan of up to £20,000 above savings starting from just 2.9% APR.
We also offer payday loans to see you through until your next salary. After becoming a member, you can apply for a loan straight away. However, often we will reward you with even lower interest rates if you have saved with us first.
Flexi Loans
All members of the credit union can apply for a low cost Flexi Loan. Members are required to make a payment of at least £20 into their respective credit union savings account before loans funds are released. The Flexi Loan interest rate is 26.8% APR. However, although the interest rate might be slightly higher, the monthly or weekly repayments may be lower as there is no minimum savings requirement.
Security Loans
As a credit union, we encourage our members to build up their savings accounts. Thus, we offer an alternative 'Security Loan' at just 4.9% APR. This facility allows members to keep payments the same, and save their hard earned savings.
Alternative lender
One of our speciality areas is that of helping people on low incomes, and/or facing problems with debt. We are here for the benefit of our members and that is why we offer a range of information and support for members in financial difficulties. The low cost loans provide a real alternative and everything we do is underpinned by the internationally recognised cooperative values and principles.
The Credit Union Product Details
Loan Type

Credit Unions

Interest Rate

from 2.9%

Loan Amount

up to £20,000

Repayment

1 month to 60 months
Benefits of The Credit Union
You can apply with a bad credit score
Apply online to become a member
Choose between loan options
Our ethics, values and principles are different, and that is what sets us apart from the rest!
In order to apply for a loan you must first join as a member. Should your low cost loan be approved, you must have an active account with a minimum £50 deposit to your savings account. The approval of the loan is based upon your affordability and evidence thereof.
Bad credit loans
Unlike other traditional lenders and banks, we will not judge you if you have had financial problems, we will try to assist you if possible. As a responsible lender we will never promote for you to borrow more than you can afford comfortably.
Easy online application
All you have to do to join and/or register is go online and access then you can submit your loan application online. There is no need to visit our branches. You are also able to approve the loan agreement online and we can then transfer the funds direct to your bank account.
Democracy, equality and fairness
We operate differently from other businesses as we are a cooperative that is owned by shareholders and thus, any member has an equal say in the running of the business. Our ethics, values and principles are different than those of most of our competitors in the financial services market.
One feature that truly sets us apart is that we return any financial surplus to our members in the local community. The values and principles of The Credit Union are set us out as a more democratic, equal and fairer way of providing financial services and a range of online loans.
Financial security gives you peace of mind
The insurance policies we offer protect members' savings from fraud, theft and dishonesty. We want nothing more than financial security for each and every one of our members.
Movement of credit unions
There has been a movement of credit unions and in the UK alone there are 362 credit unions with 1,197,000 members. It has become a popular form of lending and borrowing worldwide and is a more reliable, fairer form of financing that can be found with traditional methods of financial services.
Customer Reviews & Testimonials
"
Joining TCU was the best decision I have made in the past 5 years.
I am able to get more interest on my savings accounts and lower rates on any loans I intent to obtain.
Philipa B
— Sheffield —
Low-interest rates on loans and flexible repayment options.
Ray M
— Aberdeen —
The Credit Union Contact Details
Contact Number
E-Mail
Website
Physical Address
Eric Tolhurst Centre, 3-13 Quay Rd

Blyth

England

NE24 2AS

United Kingdom