Experienced leaders
Peer-to-Peer Lending starting from £25,000
Repayment up to 3 years
In-page navigation
---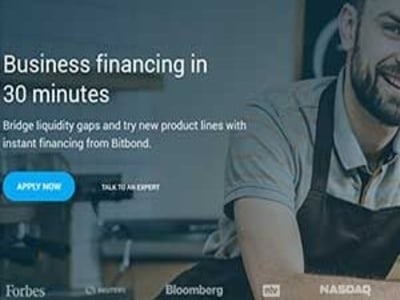 About Bitbond
Bitbond offers peer to peer lending that gives individual investors access to profitable interest rates and a host of benefits.
And borrowers get small business loans quickly with lower interest rates than traditional lenders and banks currently offer, not to mention other benefits and features that simply make borrowing better.
Global market for small business loans
We have created the first global market for small business loans that is not made possible through conventional banking systems. Traditional lending simply does not satisfy the requirements of all borrowers. At the same time, investors are seeking better investment opportunities. This is where our peer to peer lending system really makes a different.
We serve small businesses – globally
Bitbond has invested in state of the art technology that makes it possible for us to leverage and connect creditworthy borrowers with individual and institutional investors. Investors can now reach investment opportunities that might not have been within their reach previously.
The values of Bitbond
The one belief that we hold is that a trustworthy and established financial system is built on three pillars.
Accountability
We believe that all stakeholders involved need to be held accountable for what they do and the same principle applies to us.
Transparency
Not only is it one of our values but we put it into practice and thus, you can expect the best available level of transparency about our peer-to-peer loans and services at all times.
Simplicity
We ensure that our financial products are transparent and trustworthy by keeping it simple.
Bitbond Services
The global peer to peer lending market for small business loans that we offer allows borrowers to have access to funds that are provided by lenders or otherwise investors.
Borrowing and investing has never been as simple, and as straightforward
With a more holistic approach to lending services, we are transforming the industry with our innovative peer to peer lending system.
Get a loan to grow your business
Borrow up to $25,000 starting from as little as 1% monthly
Quick loans available for eBay sellers and online businesses
Terms from six weeks to three years
Available in many countries
International investment opportunities
Earn 13% interest with bitcoin lending
All borrowers credit checked by Bitbond
Diversify your portfolio globally
Convenient automate investments with AutoInvest
Investment options
Investors can either choose the business or personal loans they would like to fund manually or they can use our convenient AutoInvest tool.
AutoInvest lets creates investment preferences in an automated way.
Portfolios are diversified as investors are able to invest across many different countries.
We aim to make investing and financing globally accessible.
Key stats
100,000+ users
1,900+ funded loans
$3,000,000+ loan volume
Bitbond Product Details
Loan Type

Peer-to-Peer Lending

Loan Amount

from £25,000

Repayment

6 weeks to 3 years
Benefits of Bitbond
Settlement and custody bonds
Peer-to-peer lending
The platform that makes your money grow!
Investors can gain access to our profitable marketplace and earn an expected return of 13% per annum, growing your wealth in the quickest time possible.
Lenders also have the opportunity to help fund small business owners located in over 120 different countries while spreading risk and maximising your returns. It is a business lending concept that is mutually beneficial for all stakeholders involved.
Reputable and reliable borrowers
Our dynamic team takes all the hard work out of finding feasible investment opportunities by accurately assessing the creditworthiness of borrowers. Thus, lenders are guaranteed that the borrowers we accept are reputable and reliable.
Why invest with Bitbond?
Expected return of 13% pa.
No investor fees
Diversify an international investment portfolio
Help entrepreneurs from around the world grow their business
Use our AutoInvest tool to save time and earn high returns
Expert peer to peer lending platform
Since 2013, we have helped fund 1,300 peer-to-peer loans and have brought lenders and borrowers together to both gain access to profitable marketplace lending. Simply join Bitbond today to start earning today.
Other benefits
High-yield earnings
Investors have the opportunity to earn substantial profits of interest rates are around 20% and your expected rate of return is 13%.
Register as an investor
Simply enter your name and email, fund your account and start lending in seconds.
Fund international entrepreneurs
By investing in our investment opportunities, you are able to diversify your portfolio internationally and help small business owners grow their business.
Customer Reviews & Testimonials
"
When we found out that our landlord intended on selling the apartment we've been renting, we were stressed for time and funding. Bitbond was completely understanding of our situation and provided...
Daniel H
— Canterbury —
Bitbond helped us through a difficult situation. The amount we applied to borrow was paid into our bank account two days after we submitted our application. Awesome people! Awesome company!
Gabrielle M
— Dundee —
Bitbond Contact Details
Contact Number
E-Mail
Website
Physical Address
Strelitzer Str. 60

Berlin

10115

United Kingdom
Opening Hours
Monday

Open – 24 Hours

Tuesday

Open – 24 Hours

Wednesday

Open – 24 Hours

Thursday

Open – 24 Hours

Friday

Open – 24 Hours

Saturday

Open – 24 Hours

Sunday

Open – 24 Hours