Fixed interest rates
Peer-to-Peer Lending up to £2,000,000
Low-interest starting from 723117%
Repayment up to 5 years
In-page navigation
---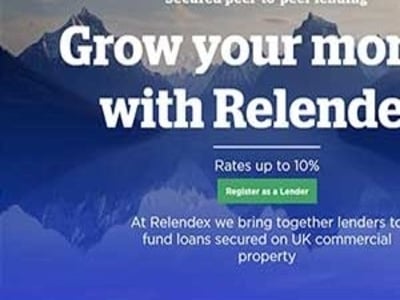 About RElendex
Relendex provide investors with a low risk marketplace that produces higher returns than banks.
Similarly, borrowers are provided with affordable peer to peer loans that have great rates and benefits. All loans are secured against commercial and residential properties. Our new asset class generate lucrative returns for lenders. Both private and institutional investors form part of our database and they have direct access to UK professional property lending.
Borrowers matched with lenders
A single borrower will be matched with multiple lenders and lenders are then able to choose the loans that meet their lending criteria for investment. We take all the hard work out of finding the right investment opportunity for our lenders.
Capital protection and security
We have an experienced lending team that have selected certain standard, quality loan requirements and it meets the strict lending criteria. Lenders can rest assured that capital protection is always our priority.
The benefits of secured lending
Secured lending not only offers good returns but also reduced risk for lenders; better terms and borrowers have faster access to capital, and better terms, conditions and business loan features and benefits.
Select your own interest rate
Relendex lenders decide on, and set their own investment decisions and specify the interest rate they require. However, for out Set Rate auctions the rate is predefined. There is a minimum bid required of as low as £500 and the maximum bid will be the entire loan amount.
Live marketplace
Relendex arranges auctions between a borrower and a number of lenders for each loan. This is done through our auctions in a live marketplace.
RElendex Services
Our services are offered from a live marketplace that connects lenders and borrowers in a mutual space with great rates and features for both stakeholders.
No charges for lenders
There is no membership fee, no annual charges and no fees for making individual bids. Lenders are thus guaranteed of the interest rate without any surprise charges.
What do our lenders get?
Access to a new asset class
Control of lending decisions
Decide the rate of interest and amount to lend
Lenders are provided with detailed information about the property and borrower to help select appropriate peer-to-peer loans that are well informed
All the legal and agreement arrangement such as sourcing, legal documentation, deal management and security
Minimised risk by careful sourcing and taking security in every case
No membership fees and no obligations to commit to a specific loan
What do our borrowers get?
A highly experienced lending team to guide you throughout the process
Online loan application that gives you fast feedback on your loan proposal
A responsive and flexible service
Competitive terms and the benefit of low interest rates that are determined by live auction bidding
Fixed interest rate loans
We offer interest only loans
Fixed interest rates and long repayment terms
Our lending is all at fixed rates of interest between six months and five years. And we host two types of auctions namely, Set Rate Auctions and Dynamic Auctions.
RElendex Product Details
Loan Type

Peer-to-Peer Lending

Interest Rate

from 723117%

Loan Amount

up to £2,000,000

Repayment

6 months to 5 years
Benefits of RElendex
Bridging loans
Peer-to-peer businesses lending
Low costs and fees
Flexible loans and terms
Relendex arranges funding for commercial property investments by means of a platform that connects lenders and borrowers
Borrowers benefit from the lowest interest rates that are fixed and our lenders include individuals, organisations, corporate lenders, commercial banks and corporate lenders.
How to borrow
Firstly you will need to register with us. You will then be required to complete a borrower application. It's simple, the sooner you provide all required information, the faster the approval process.
We require the following information
Address
Type of property
Approximate age
Principal use
Total area
Tenancy schedule
Total rent
Estimated market value of property
Date of last valuation
Loan amount your are seeking
Purpose of peer-to-peer loan
Photo of property
What's next?
Your request will be reviewed upon receiving all the required information. However, you may be asked to provide further documentation. We will then let you know whether or not we think we can assist with your funding requirement. Should this be the case, the property will then be inspected and evaluated and you will receive your review and approval and a Loan Facility Agreement.
Top benefits of lending with Relendex
Higher rates on investments
Returns for investors are up to 10% per annum and the interest will be paid quarterly. As a peer-to-peer exchange we are here for the mutual benefit of all parties.
Secured on property
As all business and personal loans are secured against professionally valued commercial and residential properties, the risk of investment is extremely low.
Access to your capital
Usually, the investment capital is invested for one to five years and the interest is paid into your Relendex account each quarter. You can resell loan-parts to other lenders through our Resale Marketplace should you wish to access the capital sooner.
Customer Reviews & Testimonials
"
RElendex is great they do all the hard work for me by matching me up with the best borrowers, also I have no endless amounts of membership fees.
Jessica A
— Edinburgh —
I have used other P2P lenders and I find working with RElendex to be the best so far.
Vanessa L
— Stirling —
Really fair interest rates and repayment terms. Thank you.
Finley A
— Ludlow —
RElendex Contact Details
Contact Number
E-Mail
Website
Physical Address
99-100 Turnmill St

London

England

EC1M 5QP

United Kingdom
Opening Hours
Monday

09:00 – 17:30

Tuesday

09:00 – 17:30

Wednesday

09:00 – 17:30

Thursday

09:00 – 17:30

Friday

09:00 – 17:30

Saturday

– Closed

Sunday

– Closed