Flexible loan options
Peer-to-Peer Lending up to £3,000,000
Repayment up to varied
In-page navigation
---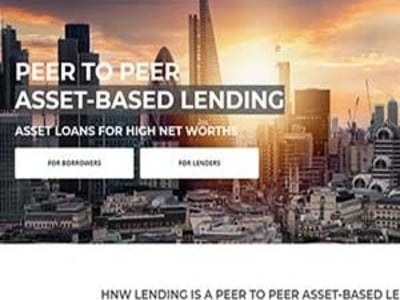 About HNW Lending
Are you looking for an alternative method of investing or borrowing?
You might want to consider our peer to peer lending platform. By using our platform, HNW collects funds from individuals and businesses to lend to other individuals and businesses.
Security on loans a guarantee
As our loans are asset-based, it means that HNW are able to back the loans up with assets that cover the amount of the loan. It gives investors the security they require to invest with peace of mind.
Reputable peer to peer lender
HNW Lending as been trading for more than three years and in total, have arranged countless personal loans. As a responsible lender, we are regulated by the Financial Conduct Authority.
Financial solution for borrowers
The HNW Lending platforms allows individuals and to borrow from £30k to £3m using those assets such as property, cars, pensions, fine wine, etc as security for the loan. Borrowers are guaranteed interest rates that are very competitive with a quick and prudent financial service.
We usually issue loans on the same day as enquiry. It will only take a few days to complete the loan and no details are given to credit agencies. We are privately funded, which enables us to offer financial services just the way we do.
Investment solution for investors
Individual and businesses are able to invest, through our platform, in a variety of projects. We offer 'secured' lending, which means that if a loan repayment should default; the assets are sold to repay the loan. Investors are thus guaranteed an extra layer of protection compared to unsecured short term loans. However, that's not all.
HNW Lending Services
Individuals and businesses seeking loans can do so if they have assets such as real estate, cars, pensions and other luxury items, which will form security for the loan. We lend from £30,000 to £3 million.
Why choose HNW loans?
Fast
Once you have completed, and we have received your online loan application form, loan offers are usually made within a few hours. Loans are usually completed within one to two weeks of the loan offer being made. Our application process is also streamlined to ensure loans can be completed as soon as possible.
Competitive
Since we are funded by high net worth individuals, the interest rates we are very competitive and should a borrower receive a cheaper offer from another lender, we will do our utmost to better it.
Reliable
We have helped fund many peer-to-peer loans and you are guaranteed to have access to reliable investors who are willing to lend you the funds you require.
Flexible
Our flexibility sets us apart from other lenders, and that is another reason why our customers prefer our services.
Discreet
As our borrowers secure their loans against assets, we do not have to inform credit agencies about the loans taken out by our borrowers. Should you have a less than perfect credit history, we should be able to assist you with a loan.
Wide variety of collateral options
Borrowers are able to secure their online loans against a wide variety of assets such as property, high-value cars, fine wine, jewellery, pensions, antiques, stamp collections, yachts and boats to name a few.
HNW Lending Product Details
Loan Type

Peer-to-Peer Lending

Loan Amount

up to £3,000,000

Repayment

varied
Benefits of HNW Lending
Secured loan options
Competitive rates and fees
A quick and easy loan application process
Peer-to-peer lending
Look no further for the best loan options in the UK
If you are interested in a loan or in investment opportunities, you can apply by completing and application form, by contacting or emailing us.
We co-invest with our lenders
To back up our business ethics and the trust we have in our method of investing, HNW Lending Ltd's directors co-invest in loans with the lenders that form part of our network. With a minimum investment of £10,000, we are mostly funded by high net worth individuals, the corporate sector, ISAs and SIPPs.
Borrowing process
Information required
Firstly, borrowers will be required to complete our application form and to email through valuation documents, which could simply be the estate agents particulars on a property. However, it might be helpful if you have formal valuation, especially for more unusual assets.
Offer of a loan
You will be made a formal loan offer, based on the information you have provided. If you are comfortable with the terms, you will be asked to sign and send the signed loan offer back to us
Items moved to safe storage or charge registered
The arrangement will be made for the items to be moved into safe storage and for property; a solicitor is permitted to register a legal charge at the Land Registry.
Signing of loan documents
Usually you will only be required to sign two documents, namely a loan agreement and a security document. The loan agreement sets out the terms of the loan whereas the security document pertains to the information of the asset/s that has been secured against the loan.
Funds move to borrower
This will usually be via a same-day CHAPS transfer.
Lending process
Sign-up
All potential lenders are required to register to access our online secure platform. The information required during the registration enables us to conduct FCA 'know your customer' checks. For this we require supporting documents such as a copy of a utility bill and passport or lenders can do this via our ID Check software, for added convenience.
Review available loans
Lenders can then via our online secure platform see the list of loans available and review the documentation associated with those loans such as lender term sheet, loan agreement, security documents, valuation of security and any other important information.
Choose which loan(s) to lend against
You are then able to pledge funds towards the peer-to-peer loans you wish to.
Loan completion
You will be informed once the loan has completed and your funds have been transferred to the borrower.
Interest and loan repayments
As security agent, we will collect the interest and capital payments on behalf of the lender, and transfer the respective amounts to the lender's nominated bank account.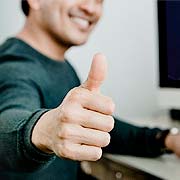 HNW Lending is a trusted & reliable provider of peer-to-peer lending
In our review, HNW Lending adheres to the compliance criteria in accordance with the Financial Conduct Authority, where the granting the loan will not cause financial distress to the consumer.
HNW Lending is a registered credit provider in the UK; FCA number 712956
Customer Reviews & Testimonials
"
HNW Lending is a genuine dime a dozen!! My daughter is rather on the clumsy side and frequently needs to be patched up. When I received the call that she had been in an accident, resulting in a b...
Elijah B
— Iverness —
No penalties for paying the debt off early! If I've had a productive month, I prefer to pay a little more than my usual rates. HNW Lending allows me to do that without incurring any additional fe...
Liam O
— Dublin —
There is always some risk of non-payment when becoming an investor, but HNWL has several safeguards in place to significantly reduce the chances of that happening. I've been a devoted client for ...
Kayla G
— Birmingham —
HNW Lending Contact Details
Contact Number
E-Mail
Website
Physical Address
72 Charlotte St, Fitzrovia

London

England

W1T 4QQ

United Kingdom