Personal loans up to £50,000
Low-interest starting from 21.9%
Repayment up to 7 years
In-page navigation
---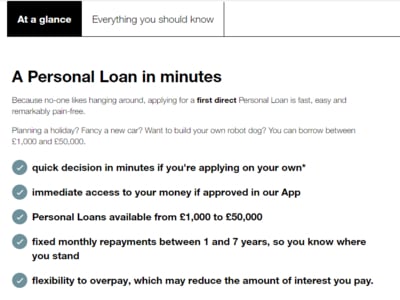 About First Direct
We are the people-powered bank that never closes.
Our customers can expect real people answering the phone 24 hours a day, 7 days a week.
With various platforms available to make borrowing easy for you, on your mobile or laptop, we have ensured we have used technology to your customer-experience advantage. We're First Direct and we love what we do.
First UK-bank to offer always-open service
Since 1989, when we received our first ever call, we have been assisting our customers every step of the way.
In fact, our lines have been open ever since and we are the first UK bank to offer an always-open service to our customers. However, we also understand the importance of staying ahead in the industry.
Pioneering easy banking
Our phone service is what initially caught the eye of our loyal clients but we have achieved much more since our innovation phone banking service.
First Direct launched its PC banking service in 1997, text message banking in 1999, and internet banking in 2000. What's more is that we were the first UK bank with a Twitter account.
First Direct Services
Get a personal loan in minutes!
Whether you are planning a holiday or wanting to plan for you dream wedding, with us, you can borrow between £1,000 and £50,000.
Quick glance at our personal loans
QUICK decision in minutes
IMMEDIATE access to your money if approved online
LOAN amounts available from £1,000 to £50,000
FIXED monthly repayments from one to seven years
FLEXIBILITY to make extra payments, which may reduce the amount of interest you pay
Competitive rates
We offer our customers a representative of 3.3% APR for loans between £7,000 and £30,000.
Our customers love us
We understand the requirements of our customers when looking for banking or loan services and thus, our customers love us too. We have won more awards for our service than any other UK bank.
How can we help?
Whether you are looking to apply for a personal loan or needing other services such as a current account, savings, cards, mortgages, other loan types or insurance, we are able to help you.
First Direct Product Details
Loan Type

Personal loans

Interest Rate

from 21.9%

Loan Amount

up to £50,000

Repayment

1 year to 7 years
Benefits of First Direct
Get immediate access by using the app
Get a loan decision

within minutes
Fixed

monthly repayments
Apply for a First Direct personal loan in minutes
To apply for a personal loan, we only need a few minutes of your time and you could receive the funds sooner than you expect.
Only available to existing customers
Existing customers are simply required to log on to their internet banking, select 'Apply' and choose 'Personal Loan' from the left hand menu. Follow the simple instructions to get a personal loan with terms that you prefer. Alternatively and if you would prefer to speak to us personally, simply give us a call. As our personal loan service is only available to our current account customers, you would need to join us to apply for our competitive personal loans packages.
Repayment terms
Personal loans with us have a minimum term for our loans are 12 months and the maximum term is 84 months. You can choose any term in between, in six month periods. Flexibility on our personal loans is how we like to do business and we want to offer you the same convenience.
How long will it take for loan approval?
Applying for a personal loan online will take about three minutes to complete the application form. Once you have submitted your application and if you are accepted, the funds will be transferred to your account immediately.
Applying via telephone
You will still receive an instant decision if you apply by phone but you will be required to return some signed documents, which might take slightly longer as the funds can only be transferred once we have received the signed documents.
Can I repay the loan early?
Customers can repay their loan in full at any time by giving us notice. This can be done either by calling us or sending a secure message or in writing. Once we have received the notice, we will give you a settlement figure. By repaying early, there could be a reduction in the amount of interest you have to pay. We charge one months' interest on the settlement figure when closing a personal loan account early.
Customer Reviews & Testimonials
"
I applied for my loan online and within minutes I was approved and the cash was in my account the same day.
Oscar W
— Leeds —
I am very impressed with how low the interest rate on my loan is and how affordable my monthly repayments are!
Galena P
— London —
First Direct Contact Details
Contact Number
E-Mail
Website
Physical Address
40 Wakefield Rd

Leeds

LS98 1FD

United Kingdom
Opening Hours
Monday

08:00 – 22:00

Tuesday

08:00 – 22:00

Wednesday

08:00 – 22:00

Thursday

08:00 – 22:00

Friday

08:00 – 22:00

Saturday

08:00 – 20:00

Sunday

09:00 – 20:00