Short-term Loans up to £1,000
Repayment up to 12 months
In-page navigation
---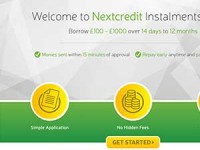 About NextCredit
Nextcredit, through competitive and varied credit products have become one of the most forward thinking diversified financing companies in the UK.
Our customer friendly internet and mobile technologies allows us to deliver financial services with easy and convenience.
Short-term loans available
If you are looking for a competitive short-term loan, we would like to assist you with the finances you need, for whatever purpose you require it for.
We help all our customers
If we are unable to fulfil a customer's lending requirements, we have a panel of other lenders that might be able to assist you.
Customer service excellence
Customer service excellence is and will always be one of the most highlighted advantages of NextCredit. We have a simple goal in mind and that is to deliver customer services that is unmatched and that ensures we have returning customers.
Quick payouts
Same-day payouts are what we aim for, provided that your application has been completed and approved before 16h00 during the week. Application submitted outside of these hours, will be deposited into your bank account the next business days.
NextCredit Services
You will never have to wait on your loan when dealing with us.
Deposits within 15 minutes of approval
The loan amount can be in your account in 10 to 15 minutes after loan approval. Faster payments are subject to your bank. Some banks might take a few hours to update your funds.
We are a reliable direct lender
Our business is direct lending; however, at times we are unable to offer our direct financing services to customers. In these cases, we refer the application on to a number of other expert lenders, to find the best possible solution for you.
We are a provider of short-term loans that are flexible, transparent and the application process allows you to get your hands on the funds you need as soon as possible.
What is a short-term loan?
Short term loans are a lump sum cash advances, which are payable over a predetermined period of time that is affordable to you.
What type of loans do Nextcredit offer?
Apply for short-term loan of £100 to £1000, with a repayment period of 14 days to 12 months.
NextCredit Product Details
Loan Type

Short-term Loans

Loan Amount

up to £1,000

Repayment

14 days to 12 months
Benefits of NextCredit
SHORT-TERM Loans
PERSONAL Loans
QUICK Loans
NextCredit is there to assist you with an affordable short-term loan
Simply apply today, and ensure you have the funds you need, today!
Applying for a loan with NextCredit is easy but before applying there are a few points to note with regards to our lending services.
Before you apply for a loan
We will provide you with some legal documents that outline all the important information of the loan including, the terms and conditions of your loan, before you apply for a loan. It is important that you read and understand those documents as they explain the terms of your loan, any charges that may apply and your rights as a consumer.
How to apply for a loan
Visit our website and apply online. To start the application process, you will be required to decide how much you want to borrow and select your preferred repayment period.
Some checks will be done to confirm the information you have provided and to assess your affordability of the proposed loan.
Should we initially approve your loan, you will be provided with your loan agreement.
We encourage our clients to read through all the legal paperwork and the loan agreement to ensure that they are 100% familiar with all the terms, conditions and costs involved.
Once the above has been done, and you are approved, we will deposit the funds into your bank account.
You start with your repayments of the loan.
And be sure to check your email, as it will be us, thanking you for repaying your loan on time.
Cost of your loan
You will be charged 0.8% per £100 borrowed, per day for the loan period.
How we will communicate with you
Whether it by phone, email, SMS (text) and letter, we stay in touch with our customers.
You have the right to withdraw
Should you decide to withdraw from the loan agreement, you have the right to do; provided that it is withdrawn within the permitted period.
Why do we require your personal information?
To make lending decisions
For fraud prevention
For debt collection
If needed, to connect you with other lenders
For statistical analysis
Talk to us
Talk to us should you have any questions or queries, for example:
Find out more or clarify any information; or,
Exercise your right to withdraw; or,
Cancel the Continuous Payment Authority; or,
Make a complaint.
Here to assist you every step of the way
Providing only the very best online lending services, is what we aim to do, every day. Regardless of your financial history and credit score, we would like to hear from you. You might get your hands on the required financing, quicker than you think. Serving our customers is how we conduct business on a daily basis.
Customer Reviews & Testimonials
"
I prefer doing my business online; I was very impressed with the speedy process.
Nathaniel L
— Leeds —
My dad needed cash for his business, but he hates doing business online. I found the service friendly and the approval was complete in minutes.
Billy P
— Brighton —
Quick application, friendly service, fast approval. Good job!
Musab A
— Birmingham —
NextCredit Contact Details
Contact Number
E-Mail
Website
Physical Address
10, Basepoint Business Centre, Oakfield Close, Tewkesbury Business Park

Tewkesbury

England

GL20 8SD

United Kingdom
Opening Hours
Monday

08:30 – 17:00

Tuesday

08:30 – 17:00

Wednesday

08:30 – 17:00

Thursday

08:30 – 17:00

Friday

08:30 – 17:00

Saturday

– Closed

Sunday

– Closed