Short-term Loans up to £1,500
Repayment up to 90 days
In-page navigation
---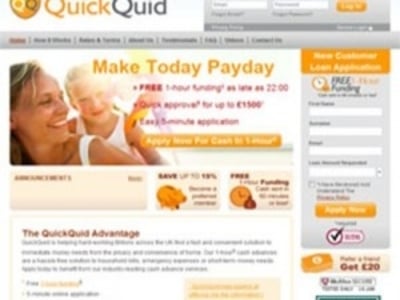 About QuickQuid
QuickQuid is a lender that you can count on!
We offer clear terms to ensure you know exactly what your loan entails, without the red tape and hidden clauses.
Established in 2007 as an online lender and we form part of Enova International. Enova International has been delivering quality online loans to UK residents for over 10 years.
Trusted name in the industry
What can you expect from one of most trusted names in the online lending industry?
As a valued customer, you can expect a more flexible type of borrowing. Nearly one million Britons have been able to manage their unforeseen expenses more at ease because of our financial support throughout these times.
Convenient online tools
Use our online tool to get an idea of what you next short-term loan will cost you.
Do you wish to check your balance and other related information? Log in to have access to all the information you might need 24/7.
Your information is protected
We use Secure Socket Layer (SSL) encryption when any sensitive data is being transmitted.
Your information is protected by the very best systems available.
All-round customer support
Customer satisfaction is something that we prioritise. Available seven days a week, our customer support team are always ready to assist you.
QuickQuid Services
Our short-term loan amounts are up to £1000 for new customers and £1500 for existing customers.
Benefits of QuickQuid short-term loans
Multiple repayment options
At QuickQuid we offer three different repayment options. We give our clients options to ensure that they find a solution that best suits their needs.
Fast funding
You can get cash sent within 10 minutes after approval.
Low daily interest rate
There is a daily interest rate of 0.80% charged on your outstanding principal per day.
What if I have less-than-perfect credit?
We would like to assist you regardless of your credit score. It does not necessarily prevent you from qualifying for a QuickQuid loan. Our use of a variety of criteria to evaluate each customer allows us greater flexibility compared to traditional banks and lenders.
What are your repayment options?
You could be eligible for one of the following repayment methods.
1. This repayment option gives you only a single repayment date, on which date, the loan amount plus accrued interest must be paid.
2. This option permits the entire amount to be repaid over two repayment dates. On the first repayment date, the interest that has accrued to date must be paid. The second repayment date, the outstanding amount is to be paid, which will include the interest that has accumulated between your first and second repayment dates.
3. Here you have three repayment dates. The first two payments will be interest-only repayments. The third repayment date, you will be required to repay the loan amount, including the interest charged between the second and third payments.
QuickQuid Product Details
Loan Type

Short-term Loans

Loan Amount

up to £1,500

Repayment

90 days
Benefits of QuickQuid
SHORT-TERM

Loans
PERSONAL

Loans
QUICK

Loans
QuickQuid offers 10 minute loans
To get your short-term loan approved and the cash in your account within 10 minutes, simply apply for a QuickQuid loan online.
Eligibility requirements
VALID UK bank account
EMPLOYED and receiving a regular paycheque
RESIDENT of the UK
AT LEAST 18 years old
Applying with QuickQuid
If you are a new customer, simply complete our online application form to apply for a short-term loan. It will only take a few minutes and you are well on your way to getting the financing you need. If you are a returning customer, use your online account to apply for a loan with just a few clicks.
Required information
Address information
Employment information
Financial and monthly expense information
Bank account information
Should we be unable to verify the bank account details provided in your application, we will be required to request additional information before your loan can be processed. You will be able to view your contract and loan details on your online account once the loan has been completed. Once the loan has been transferred, we will notify you via email.
Additional borrowing options
Other borrowing options that may be available to customers with active loans includes early repayment without early repayment penalties and customers may be eligible for a top-up or extension on their loans.
Loan top-up
As long your current loan is in good standing, you might be able to apply for a top-up loan. This may be done if you have only the principle loan amount remaining. Another feature we offer, are loan extensions. Go online to see if you are eligible to apply for a top-up loan or an extension on your current loan.
Helping you every step of the way
Three days prior to each payment date, we will notify you via email. Should you require any assistance or if you have any questions, please do not hesitate to contact us. Our support teams are on standby to ensure you get the assistance you require.
An authorised and regulated lender
We are authorised and regulated by the Financial Conduct Authority. Our firm registration number is 673738 and we are in compliance with the Data Protection Act of 1998.
Customer Reviews & Testimonials
"
I needed money urgently, and they came to my rescue. The application process was easy, even for an old man like me.
Vito R
— London —
Super friendly consultants and a speedy approval rate.
Samiyah K
— London —
Loan approved in minutes, but the money was only paid out two days later. I almost had to make another plan. Friendly service though.
Conner M
— Surrey —
QuickQuid Contact Details
Contact Number
E-Mail
Website
Physical Address
---
Postal Address
PO Box 74347, London, EC1P 1YZ, UK