Short-term Loans up to £700
Repayment up to 6 months
In-page navigation
---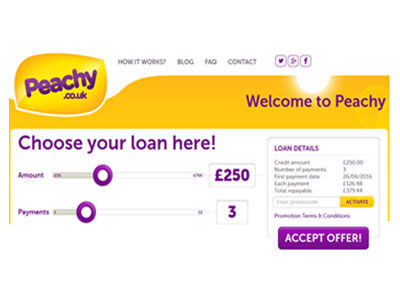 About Peachy
We are a direct lender best described as safe and secure and we are a trademark of Cash On Go Ltd based in Manchester.
With multiple repayment options we currently offer short-term personal loans from £50 to £700.
Sophisticated software solutions
Do you need to cover unforeseen expenses? We would like to assist you with the finances you require. We use sophisticated software solutions are when you apply for a short-term loan via our website or mobile app. No matter what cash emergency you may have, we are able to assist you to reach a better financial stance.
Reputable lending services
Peachy is certified by the Financial Conduct Authority (FCA) and regarded as a secure online lender. Our professional solicitors and lawyers ensure that every single process and detail of our business and services is lawful and accurate. Additionally, we take responsible lending and credit worthiness of our customers seriously. We do not approve loans if you are not able to afford it or if you do not meet the minimum requirements to apply for a loan. By doing so, we ensure that we do not burden you with loan repayments that you are unable to afford.
Peachy Services
Peachy is a versatile direct short term loan provider, with loans available from £50 to £700 with no hidden fees and you could receive your funds within an hour.
Our repayment terms range from 15 days to 12 months. It is as simple as that.
There is no need to complicate short-term loan products.
What makes our loan services great?
FLEXIBLE repayment terms with more instalments and smaller repayments
NO hidden fees
HASSLE-FREE online application
WE PUT you in control of your money
PROFESSIONAL customer service
WE ARE a direct lender
We give you options
Our customers have the option of how and when they repay their loans. The flexibility we offer is what makes us a popular short term lender.
Peachy Product Details
Loan Type

Short-term Loans

Loan Amount

up to £700

Repayment

30 days to 6 months
What do you need to know in order to apply with Peachy?
Before applying for a Peachy short-term loan, you will need to meet the requirements listed below:
UK resident
18 years or older
Hold a UK bank or building society account with a valid debit card
Have a mobile phone and email address
No users with a CCJ or CCJ's in last six years can apply
Must have regular monthly income of at least £600
Applying for a loan
VISIT OUR website and follow the following procedure to apply for a short term loan online. This should take no more than a few minutes.
USE THE online calculator and choose the amount you wish to borrow, from £50 to £700.
CHOOSE YOUR repayment terms from 15 days to 12 months.
YOU WILL be required to click on the 'apply now' icon and you will then be re-directed to the sign-up form.
Online registration form
New customers are required to go through four easy steps through the application process. These steps include providing personal, contact, employment and financial details. We will then identification to run the necessary credit checks. Customers are then required to activate their account via the account verification email, which will be sent to the email address you have provided.
Processing your application
It will only take a few seconds to process your loan application. Depending on your situation, a customer service agent might call you to ask you for further details. Once approved, you could receive your loan funds in as little as 15 minutes or up to an hour. Either way, you can be sure to receive your funds in the shortest time possible.
Loan repayment
Easy and straightforward repayment is one of the standard features of Peachy. You have the flexibility of choosing a repayment term that suits you and before the due date arrives, we will remind you of your upcoming payment via email. That is just another way we aim to help our customers reach financial wellbeing.
Security
Your data and sensitive information will never be compromised. You never have to stress about the invasion of your privacy. Thus, your data will be protected by SSL encryption and we employ a detailed privacy policy.
Customer Reviews & Testimonials
"
Easy-peasy application process, but average service from the consultants. Still useful though when I'm in a pinch.
Isla-Rae T
— Manchester —
I overbudgeted my monthly spend and was in need of some money, luckily my loan was approved in less than an hour and everything was sorted.
Zahara H
— Dorchester —
They really do put their customers first. Good service, great job.
Christian D
— Winchester —
Peachy Contact Details
Contact Number
E-Mail
Website
Physical Address
76 King St

Manchester

England

M2 4NH

United Kingdom
Opening Hours
Monday

08:00 – 20:00

Tuesday

08:00 – 20:00

Wednesday

08:00 – 20:00

Thursday

08:00 – 20:00

Friday

08:00 – 20:00

Saturday

10:00 – 18:00

Sunday

10:00 – 18:00