On Stride Financial
Updated
Short-term Loans up to £5,000
Low-interest starting from 315.4%
Repayment up to 3 years
In-page navigation
---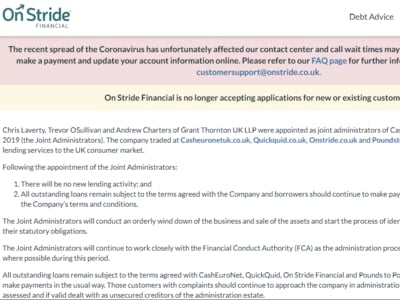 About On Stride Financial
Pounds to Pocket were founded in 2010 as an online lender so that we could provide short-term loans to assist individuals who needed a short-term loan in order to take care of emergencies.
Our quick online and funding application was designed to assist customers in obtaining their loans in the fastest possible time. We are proud to announce that we have been a finalist twice in the credit today for the alternative lender of the year in 2012 as well as 2013.
A wide range of loan options
We are now known as, On Stride Financial which is our partner brand and if you are already a Pound to Pocket client all your info is now available on, On Stride Financial and you should have no problem accessing your quick cash loan account.
All you need to do to log on is use the exact email and password you previously used with Pounds to Pocket and you'll be received with the same professionalism and great service you were used to with Ponds to Pocket. The parent company CashEuroNet UK, LLC who operated Pounds to Pocket is that same concern that operates On Stride Financial offers a complete loan option are all in one place.
Payday loans
Not like traditional payday loans, which generally are paid back in one lump sum with your next pay check, we offer the ability to spread your repayments over a term between six and twelve months. Note that with a term option, the loan would be a bit more expensive, however, it would also mean that your repayments could possibly be more manageable.
On Stride Financial Services
You'll be pleased to know that On Stride Financial's loans are more flexible.
It doesn't matter if you're a Pounds to Pocket client or just simply seeking a custom made short-term loan solution, you are guaranteed the fast funding and committed customer support with On Stride Financial, everything remains the as is.
A straightforward budgeting tool
Make use of our calculator to get a quote on your payday or short-term loan, this tool allows you to get some sort of idea on how much you're able to borrow as well as what your repayment and terms will be estimated at.
Bad credit loans
We understand the frustration when you need a loan for an emergency but your credit score is preventing you from applying for a much-needed loan from the bank.
On Stride is willing to provide you with an alternative bad credit loan, you could receive the money you need in your bank on approval.
Our lending options at On Stride Finance are straightforward and tailor-made offering personal loans between £150 and £5000 with a repayment term between 6 months and 3 years.
We say tailor-made because you get to choose the term of your loan, this means that your repayment plan is best suited to your financial requirements.
On Stride Financial Product Details
Loan Type

Short-term Loans

Interest Rate

from 315.4%

Loan Amount

up to £5,000

Repayment

6 months to 3 years
Benefits of On Stride Financial
SHORT-TERM

Loans
PERSONAL

Loans
QUICK

Loans
Get a short-term loan within just minutes, simply apply online
To make things easier for you we will do a DDI which is a direct debit authorisation, meaning that repayments will be drawn directly for your bank account when you fill in your online loan application just let us know which dates you would like to schedule.
So you don't need to stress about going to the bank every month in order to make a payment on your loan. We do it all for you!
To apply for a loan, you will need to meet the following requirements:
You need to be 18 years of age or older, it's necessary to be a UK resident and you need to earn a regular income.
Information you ought to know
Pounds to Pocket have assisted thousands, happy customers. So we know you won't be disappointed with On Stride. Our customers are more than happy to make use of our services going forward; we certainly hope you will be one of them.
You have paid off your loan with Pounds to Pocket and now you have an emergency and need a short-term loan pronto! No stress, apply with On stride the same you would with Pound to Pocket, using the same details as before.
If you have forgotten your password on Pounds to Packet no problem you can reset it on the On Stride website; you'll also able to view the history of your account as well as your details. Not much has changed.
Another great aspect is that if you're still paying off a current loan and you need to make another loan due to an emergency, we will assist you by rolling your current loan into your new loan amount, we will also extend the payment terms to suit your budget. But note that this option is subjected to approval.
Apply for your online loan today and get the assistance you need fast!
Customer Reviews & Testimonials
"
Easy to use the website and my loan was approved in minutes.
Jennifer H
— Salisbury —
Struggled to understand the consultant's terms, but the money was paid over really quickly.
Jack C
— St Andrews —
Happy with the excellent service my consultant provided, the loan approval was quick, but the money only reflected two days later.
Rosemary P
— Dundalk —
On Stride Financial Contact Details
Contact Number
E-Mail
Website
Physical Address
483 Green Lanes

483 Green Lanes

England

London

United Kingdom