Short-term Loans up to £2,500
Repayment up to 14 months
In-page navigation
---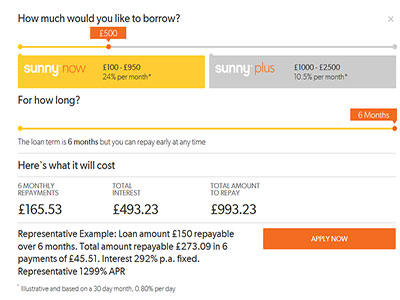 About Sunny Loans
Sunny is one of the top-notch short-term lenders in the UK because we offer great flexibility on our short-term loans.
You're able to manage your own loan, make adjustments to your repayments ensuring that each repayment is within your budget, you also have the option of settling your loan in full and final settlement which will help you save cash on interest and all this can be done online leaving you in control of how your loan is managed. To apply for a payday loan you should feel only borrow what you need in order to feel confident that you're able to afford your repayments.
Quick online applications
To apply for your short-term loan with Sunny is simple and straightforward. Once you have decided that to apply for a loan online you will be providing us with all your details such as date of birth, names, address your income and expenses will be necessary we will also need to know whom you are employed with and of course your bank details!
We will, in turn, check your credit record and make sure that you have the affordability. Sunny is a responsible lender so these checks are done purely to make sure that we are not lending you more than you can confidently afford to pay. Apply for a short-term loan with us only takes a few minutes of your time to complete online
It's important to understand all the details and figures when it comes to money, so before you commit to making an application, we aim to give you all the necessary information so that you are always kept in the know how.
Short term loans explained
Short-term loans are as its name suggests, this means it's a loan with relatively short-term repayment periods which can range from weeks to a number of months but this would depend entirely on the lender, It's considered short-term because compared to traditional personal loans which generally have repayment periods of one year or longer.
Sunny Loans Services
Our short term loans are helpful when one has an emergency expense that suddenly arises.
For instance, if you need to fix or replace a broken boiler or your car needs maintenance and you do not have the cash to cover the costs; you may consider a short-term loan as a solution.
A short-term loan permits you to spread your repayments over a period of time which could be few weeks or a couple of months and the nice thing is that you don't need to commit to a long-term agreement.
Sunny aims to give the best possible service
Our services and products were intended for short term borrowing.
Just because you have a not so good credit score does not mean that you will be excluded from borrowing funds.
Our personal loans could possibly be an option even though you have had some financial difficulties in the past which resulted in that you now have a bad credit score.
Sunny aims to provide a lifeline to all clients because you are all equally important to us. We strive to work hand in hand with you and to assist you through the process even in the event that you are stressed because you're not able to keep up with the repayments.
Get a loan in minutes
You can get the loan you need, in minutes. Our processes are easy and if your loan is approved you could have the cash in your account within minutes.
Our loans are fast loans and we never charge fees like admin or application fees we also don't charge fees for late payment although interest will be charged on a daily basis on late payments.
Settling your loan earlier means that you will save on interest or if you wish you're also able to make extra payments at no charge.
Sunny Loans Product Details
Loan Type

Short-term Loans

Loan Amount

up to £2,500

Repayment

30 days to 14 months
Benefits of Sunny Loans
SHORT-TERM Loans
PERSONAL Loans
At Sunny Loans we make getting a loan quick and easy
To be eligible for one of our Sunny bad credit loans you would need to meet the following criteria.
You must be a UK resident, be 18 years or older, have a UK bank account as well as a debit card, your net income should be at least £500 per month and have a mobile phone.
Here are some frequently asked questions, answered
Is it possible to be accepted for a loan before applying – All new Sunny Customers can check their eligibility for a loan before they apply. This will not have an impact on your credit file but will give you an indication whether your application with us will be approved.
Information required when applying for a loan – We need to know who you are employed with, your bank details as well as debit or credit card details, (we'll also need your sort code), address history for the last three years, all your financial obligations such as your income and expenses.
Bank and debit card details – We request both bank and debit card details because the information is used differently. Your debit card details are for the use of collecting your repayments on scheduled dates and your banking details are used for the depositing of your funds on successful applications.
Why not give us a call today, short-term loans are what we're about and we can help!
Customer Reviews & Testimonials
"
Service was average, but the application was easy to understand, and, in a few moments, I was approved.
Kate B
— Leicester —
I needed extra money and luckily my loan was approved in minutes.
Randall W
— Manchester —
Extremely happy with the service, but the transfer of my loan took three days.
Paisley L
— Blackpool —
Sunny Loans Contact Details
Contact Number
E-Mail
Website