Low-interest starting from 6.9%
Vehicle finance up to £50,000
Repayment up to 60 months
In-page navigation
---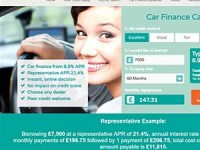 About My Car Credit
In 2016, My Car Credit were awarded a number of awards including, 'F&I Broker of the Year', 'Car Finance Awards Broker of the Year' and 'Motor Finance Intermediary of the Year' and that is what makes us the UK's leading vehicle finance broker.
Best service & products
These awards we have been granted proves our commitment to delivering the best possible service and products to our customers, helping them get the vehicle finance they require.
Changing the vehicle finance industry
One of our goals is to change the face of motor finance with the aim of making car finance access an option for as many people as possible. We want you to have the opportunity to buy the car you want, at the budget you can afford. Why should you not have the car of your dreams, if we have the option you need to make it a reality?
Unique approach to lending services
The technology we use has been developed offer a unique, market leading car credit checking system that offers our consumers the most convenience and ease to get the vehicle finance that they need. Our system has been built over many years of trading and successful underwriting, and we have mastered what we believe our customers need and want.
We have a dynamic team
Key to delivering our unique car finance service is our dynamic and professional team. They share our vision and values, and their passion has helped to create a company that is now the best in the business.
Diverse choice of car dealers
Over the years we have also developed approved partnerships with thousands of the most reputable new and used car dealers in the UK. Our service gives you access to a diverse and competitive list of vehicles, ensuring you are provided with choice.
What makes our system revolutionary?
The fact that we provide instant, online decisions and faster manual decisions makes us a preferred broker for car loans. Additionally, we offer greater flexibility and support and a more diverse selection of car finance products compared to our closest competitors.
My Car Credit Services
There are so many car finance options, choosing the best one can seem to be a difficult choice.
You will be happy to know that here at My Car Credit we want to help you with an understanding how each car loan option work. Additionally, we want you to know beforehand how much it will cost you and which option best suits your finances and requirements.
Car finance in a nutshell
Car finance allows you to become the owner of a car if you are not able to pay upfront. Once all the repayments have been made, you take legal ownership of the car.
You make affordable monthly repayments directly to the agreed lender.
Quick guide to different types of car finance
Hire Purchase (HP) - the most general type of vehicle finance and it enables you to make monthly repayments. There is usually a small admin or purchase fee at the end, at which point, you take ownership of the vehicle.
Best suited for individuals who;
Do not want to or cannot pay cash
Has a budget and circumstances best suited fixed monthly repayments
Have had problems getting credit
Want to own the car at the end of the loan agreement
Has a disposable income that might change
Personal Contract Purchase (PCP) - similar to Hire Purchase but you have the option to buy the vehicle at the end of the loan by means of a balloon payment or hand it back.
Best suited for individuals who
Want lower monthly repayments, flexibility and options at the end of the agreement
Like to change their car routinely
Are confident that they can predict their mileage
Conditional Sale – is also similar to Hire Purchase but you do not pay a fee at the end of the loan agreement, just monthly repayments.
Best suited for individuals who
Prefer to pay a bit more and avoid a large payment at the end
Want a choice of length of repayment terms
My Car Credit Product Details
Loan Type

Vehicle finance

Interest Rate

from 6.9%

Loan Amount

up to £50,000

Repayment

12 months to 60 months
How to apply for a loan with My Car Credit
Ensuring that you find a car loan that is quick, simple and easy, is what we like to do.
Thus, all our customers receive an instant online decision and with over 26 lenders, our customers get a competitive car finance rate.
Getting the very best car loan for you and your circumstances is our ultimate goal. And we ensure that our unique underwriting policy places you first.
Submit your application for an instant decision
Scroll over to our quick and simple Car Finance Calculator to calculate your rate and monthly payments to get you started.
We only need two minutes of your time to submit your application for a car loan. Instant, online decisions as well as a confirmation text message and email are how we notify you on the outcome of your loan application.
Your loan is accepted in principle
Not only will you be offered the lowest rate available through our panel of over 26 banking and car finance lenders but we will do so in the shortest time possible.
The lender's criteria and final assessment of your credit profile will determine the final outcome of your loan.
Your loan is referred to our underwriters
We have specialist underwriters who will contact you to discuss your finance options and help you to find the best possible rate for your car financing requirements.
Buy any car
Once your loan has been approved, you get to the exciting part of buying your car. Whether you already know what car you want or if you are selecting a car from our vast selection of recommended dealerships, you now have the access to the car of your dreams.
Collect your dream car
Upon receiving all the required documentation, which is then checked by the lender, the funds will be transferred to your car dealer of choice the next working day and you can then collect your car.
Customer Reviews & Testimonials
"
Nice and easy online application that takes no time at all. I heard back within a day and the money was paid out.
Sonny J
— Colchester —
No limit on the kind of car I could buy with my loan amount. Great customer service too!
Owen T
— Kingston upon Hull —
My Car Credit Contact Details
Contact Number
E-Mail
Website
Physical Address
Evolution House, Smeckley Wood Cl

Chesterfield

England

S41 9PZ

United Kingdom
Opening Hours
Monday

09:00 – 19:30

Tuesday

09:00 – 19:30

Wednesday

09:00 – 19:30

Thursday

09:00 – 19:30

Friday

09:00 – 19:30

Saturday

10:00 – 16:00

Sunday

09:00 – 15:00